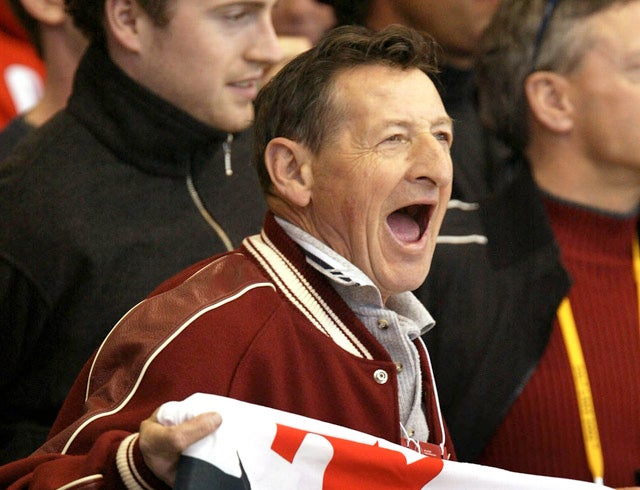 S
Joe O'Connor of the National Post has written a wonderful story on Walter Gretzky, father of Wayne and "King of Hockey Dads." The 73-year-old Gretzky has battled hearing and memory loss for years and was just recently diagnosed with Parkinson's. Despite all that, he maintains a good spirit and had days' worth of stories to tell O'Connor, whose excellent feature story is accompanied by a supplemental Q&A. They talked about a wide range of subjects, including his grandson's signing bonus from the Chicago Cubs ("half a million dollars"), whether Wayne will ever move back to Canada ("never"), and the Toronto Maple Leafs, for which Gretzky was ready with some zingers. ("Do you know the difference between the Leafs and the Titanic? Nothing. They both go down as soon as they hit the ice.")
But when Gretzky was asked about fighting in the NHL, he made it clear where he stands:
It is stupid. You want to be a boxer, go and be a boxer.
This is where we are. The prevalence of concussions in sports, how they happen, and what can be done to prevent them will continue to dominate the discussion surrounding contact sports like hockey and football for years to come. Football has bounty programs and lawsuits to address, while the NHL has fighting and cheap shots that send players to the hospital. After decades of condoning such violence, the league will likely have to address the epidemic in some meaningful way. These days, it's hard to watch any fight on the ice and not think of Derek Boogaard's diseased brain, and at a a time when we're all supposed to be fixated on which team is advancing and which is going home, the majority of storylines center around violence.
This time, it was Walter Gretzky being asked to pick a side. Next time, it might be Wayne himself or some other icon, like Mario Lemieux. Maybe it'll be Marian Hossa, as fighting and concussion-causing goonery are increasingly lumped into the same life-debilitating classification. (When your brain smashed into the side of your skull, it doesn't care how it happened.) It'll be up to each individual to voice their opinions and explain how they feel hockey should address the issue. Some will side with Walter Gretzky, others with Don Cherry. At this point, there's very little middle ground to stand in.