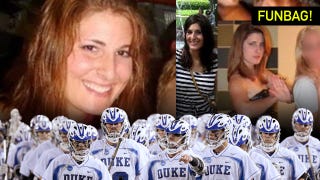 Time for your weekly edition of the Deadspin Funbag. Find more of Drew's stuff at KSK or on Twitter. Buy Drew's book, The Postmortal, through here. Email the Funbag here. Today, we're covering Skittles, sex offenders, cockroaches, and more.
Your letters:
Greg:
What do you suppose Karen Owen is up to these days? It has been 18 months since she put together her PowerPoint presentation... A crude Google search reveals nothing about her since then. To my knowledge, she has never given an interview (aside from a short reaction to the Law & Order episode based on her story), she hasn't been sued by anybody in the PPT, and the book/movie deals never happened.

Do you change your name? Live abroad? Hide in your parents' basement? Seriously, what do you do with your life after something like that? If she applies for a job, and HR conducts a background search, does the past kill her chances?