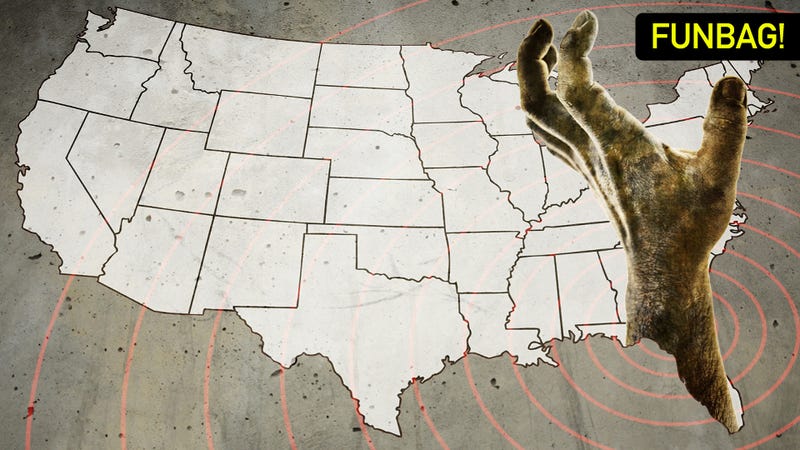 Time for your weekly edition of the Deadspin Funbag. Find more of Drew's stuff at KSK or on Twitter. Buy Drew's book, The Postmortal, through here. Email the Funbag here. Today, we're covering sports records, wizards, supervillains, and more.
I was hanging out at home yesterday when a neighbor came knocking on our door and told me that she had driven home to find that her door was wide open and that she was scared someone had broken into her house. She didn't want to check out the house by herself, so she wanted to know if I could scout it out for her.
And of course I said yes because BIG STRONG BRAVE MAN. So I went over to the house and the door was, indeed, open. Now, deep down, I was terrified that there was gonna be a burglar/rapist hanging out in that house, quietly tapping a serrated knife against a radiator, hoping for some dummy to walk in so he could butt-stab them. But again, I couldn't pussy out because I had already volunteered to help out, AND I had already made it seem like it was no big deal. "What's that? Check your house for intruders? You bet. Probably nothing. No problem at all."
So I walk in and I immediately scream out HELLO! because I'm hoping the burglar will be startled and trip over a shoebox and fall to his death at the sound of my manly voice. Also, I felt like talking real loud because I wanted company. I walked in and kept looking around because I didn't want the burglar to pop out of the closet and strangle me, because burglars do that kind of thing. And I kept SCREAMING out "Hello!" to make sure the coast was clear. They had a basement, but no fucking way I was going down there. Way too scary. I yelled a few more times and then I had all the confirmation I needed: NO TERORRIST KIDNAPPER AX MURDERERS. I told my neighbor and she thanked me profusely and I was like, "No worries. BEING A HERO JUST COMES NATURALLY TO PEOPLE LIKE ME."
I've spent the past week wondering how I would have reacted if there actually had been someone there, trying to loot my neighbor's TV. I think I would have sprinted right out of the house with a hearty trail of diarrhea following behind me. Now ... your letters:
Casey:
Shouldn't we start including Arizona in the state Ohio or Florida game for horrible news stories? It seems like everything I read about Arizona is just bat-shit insane. Man creates fake porn site profile to slander local principal? Crazy cat lady breeding cats to eat them? All Arizona!
That may be, but Florida had the naked face-eating zombie attack, which I believe puts Florida in a class by itself now. Florida deserves its own game. You can just link to that story and say FLORIDA and people will know that they're about to enter a gateway into the darkest side of human nature. Then you can make Ohio or Arizona a secondary game for stories that range from batshit insane to white trash whimsy. In fact, let's go ahead right now and rank the ten most insane states in the entire country.