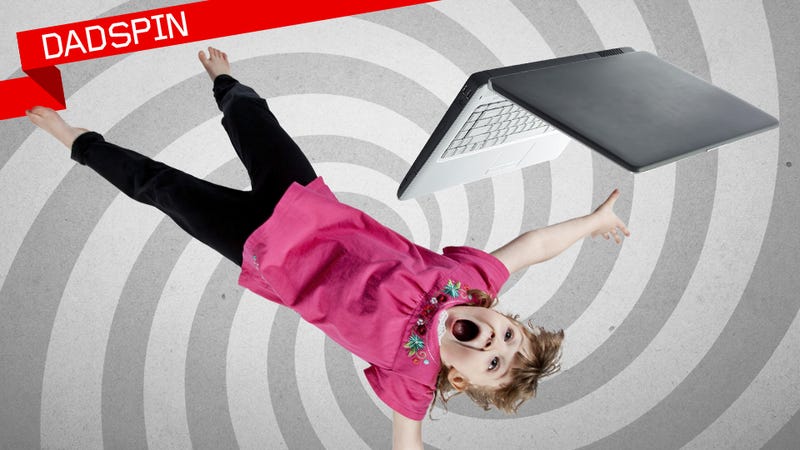 I have three children, the oldest of whom is web literate. She can work a mouse. She can open Chrome. She can type. And she can Google shit, which is terrifying because you never know when Google Image Search will decide to hand you an image of a big hairy penis, even if you're using the default MODERATE SafeSearch setting. Google isn't that smart. It can't stop all the penises from breaking through. I know it's only a matter of time before the kid stumbles upon Goatse and finds her life to be irrevocably altered. Everyone's life can be broken down into pre-Goatse and post-Goatse phases.
Obviously, you can't stop kids from growing up. Since the beginning of time, parents have tried to shield their children from the uglier side of human nature for as long as possible, only to fail much sooner than they expected to. The problem now is that the Internet is able to shatter a child's innocence instantly and severely. There's no gradual introduction into sexuality on the Internet. When I was a kid, you went from SI swimsuit issues to Playboy to scrambled Cinemax to Swank to actual video porn. That progression is over now. When you type "TITTIES" into a search engine, it doesn't ask you if you're prepared to handle what comes next. The single weirdest bit of porn I saw in my youth was when my friend Andrew opened up a Hustler and showed me a picture of "Cissy, the Texas Tunnel," a large woman with a vagina as wide as a rabbit hole. I was in my teens and it kinda fucked me up. Cissy is NOTHING compared to what's available now to a much younger group of people.
In going from a horny single fella to being a married parent, I've gone from adoring pornography to being deathly afraid of it. People like to joke about "2 Girls 1 Cup" and laugh off their need to surf for porn. But that kind of humor is usually a defense mechanism. A lot of this shit is deeply, truly disturbing. There's bestiality on the Internet. There's child porn. There's rape. And even if you install every possible firewall on your home computer and use only the strictest image-search filtering, it's no guarantee that your little ones will be protected, especially once they venture out into the world and check out a friend's computer (or the computer at the Berea public library). What does it do to an 8-year-old to see a woman being fucked by a horse? My guess is that nothing good comes from it.