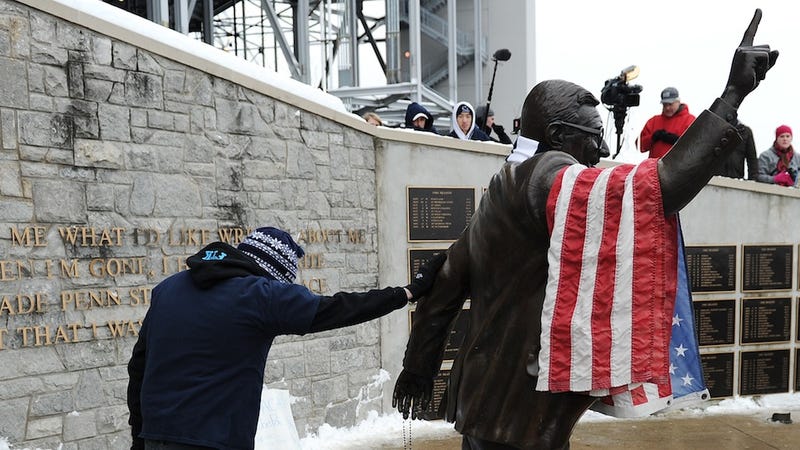 The family of Joe Paterno has released a statement in response to the Freeh Report, declaring (preliminarily, pending a close reading) that the "underlying facts...are almost entirely consistent with what we understood them to be."
"Joe Paterno wasn't perfect," the family wrote. But he was a victim of "a great deceiver," and to whatever extent the head coach may have failed to report Jerry Sandusky's misdeeds, it was because "many people didn't fully understand what was happening and underestimated or misinterpreted events."
Many people, they say. This rhetorical device appears again and again in the statement: Sandusky "fooled everyone" ... Paterno "should have pushed his superiors" ... "Joe Paterno and everyone else." Joe Paterno—the indispensable head coach, he of the heroic bronze statue outside Beaver Stadium—was merely one body in a vast, confused, plural crowd.
The only way to keep believing in the Great Man, at this point, is to deny his importance. Here's how the statement winds up:
At the same time, Joe Paterno and everyone else knew that Sandusky had been repeatedly investigated by authorities who approved his multiple adoptions and foster children. Joe Paterno mistakenly believed that investigators, law enforcement officials, University leaders and others would properly and fully investigate any issue and proceed as the facts dictated.

This didn't happen and everyone shares the responsibility.
Everyone! Cops, prosecutors, university officials—to say nothing of unspecified "others." So many people, sharing that blame around. And Joe Paterno made the mistake of trusting them.
Here is one underlying fact from the Freeh Report that is not consistent with the Paterno family's beliefs: Joe Paterno was not some hapless little figure in the vastness of Penn State. He was—with the president, athletic director, and senior vice president for business and finance—in a group of "[f]our of the most powerful people at The Pennsylvania State University."
And there's plenty to suggest he didn't rank below the other three. When he wanted an agent barred from the campus, he got an agent barred from the campus. When the university needed to give an assistant football coach an emeritus position to get him to retire—even though he had none of the qualifications—the assistant got his emeritus. Or let's reread this: