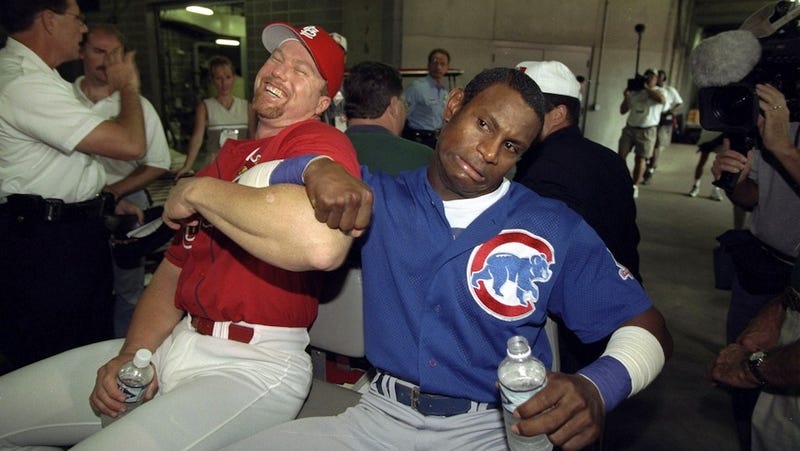 Excerpted from Twilight of the Elites, available now wherever books are sold.
The story of steroids in baseball is more often than not told as a morality tale with a rogues' gallery of villains—Roger Clemens, Alex Rodriguez, Barry Bonds—who are called out by a swarming press to be berated and humiliated, and to tearfully apologize for their sins and seek redemption. It's an emotionally satisfying drama, but not particularly edifying. Because the story of Major League Baseball isn't about any one person's misconduct, but the story of a systemic breakdown that created institution-wide incentives for fraud and a total failure of accountability. It is, in other words, the story of Enron, the story of the housing bubble and the crash, the story of much of the decade as a whole.
* * *
To understand the steroids era, you first need to understand Marvin Miller, the man who turned the Major League Baseball Players Association into one of the country's most effective unions. For the majority of baseball's history, the players union was a toothless beast. Owners more or less owned players outright; they were able to trade, hire, and fire at will. There was no free agency, and though the league was quite profitable (the only legal monopoly in the country), most players merely scraped by, working odd jobs in the off-season to make ends meet. It was a classic system of exploitation, one the owners were single-mindedly committed to maintaining.
Enter Miller. "The beginning was absolutely the worst because to the hard-line owners of that day unionism was treason, there's no other way to describe it," Miller, now in his nineties and combative as ever, recounts. "For very wealthy people who owned franchises, baseball was a respite of the tensions and problems elsewhere; here you could control everything: no unions, a reserve clause that made the players prisoners, no grievance procedure, no salary arbitration, no nothing."
Then a respected labor representative for the United Steelworkers, Miller was chosen by a player search committee that was casting around for an effective leader with experience in contracts and pension plans. He immediately went to work impressing upon his players the rudiments of union consciousness—solidarity—and putting it into practice with a series of strikes. By 1968, Miller had negotiated baseball's first collective bargaining agreement, raising baseball's minimum salary for the first time in twenty years. Four years later the players struck for the first time. It would be the first of many. In each strike the union held, the owners conceded, and the players walked away with concrete and valuable contract improvements. If the median American wage earner had been able to join a Marvin Miller union, that wage earner would have seen his or her inflation-adjusted wages increase from $4,938 to $62,717 over the same period of time (1966 to 1982). Not surprisingly, the union became highly trusted by its members.
Then in 1985, in response to the union's victories, the owners engineered a conspiracy to steal back millions from the players. Meeting secretly, they struck a deal not to competitively bid for the services of free agents, artificially suppressing the salaries on the market. The union got wind of the arrangement, sued, and the owners ultimately ended up paying hundreds of millions of dollars to players in settlements.
The collusion episode confirmed for Miller's successor, Donald Fehr, that the owners were implacably intent on suppressing their members' salaries by any means necessary. "It poisoned the well of what was already a fairly toxic relationship," recalls former commissioner Fay Vincent. Vincent entered baseball from the movie business as the second in command to commissioner and former Yale president Bart Giamatti. When Giamatti died unexpectedly in 1989, Vincent took the reins. "The union-management problem dominated everything when I came to baseball."
What the baseball steroids scandal shows is that it's rather difficult to design a competitive system that heavily rewards performance and doesn't also reward cheating.
By the mid-1990s, having been bested and bested again, the owners resolved to precipitate a confrontation with the players they would finally win. In preparing for this fight, they came to see Vincent as an obstacle. In 1990, during a period of intense labor-management tension, Vincent had stepped in as a neutral third party, facilitating negotiations that ultimately avoided a work stoppage. This time, though, the owners didn't want negotiation. "They thought if they got into a major confrontation with the union, I might get involved and order them to make a deal or go back to work or permit the union to play," he told me.
If there was going to be a no-holds-barred brawl with the union, it was important that there not be an independent referee: The league's commissioner was empowered by the league's bylaws to act "in the best interest of the sport" even if that meant penalizing owners for misconduct, as Vincent did the Yankees' George Steinbrenner. (Steinbrenner had paid a small-time gambler $40,000 to dig up dirt on former Yankees outfielder Dave Winfield in response to Winfield suing Steinbrenner for breach of contract.) In other words, in an institutional landscape defined by a ceaseless war between labor and management, the commissioner stood as the only quasi-independent representative of the sport's long-term interests. He was the closest thing baseball had to a regulator. So in 1992, when Milwaukee Brewers owner Bud Selig led a group of owners in a putsch against Vincent, what they were doing was deregulating—putting one of their own foxes in charge of the proverbial henhouse.