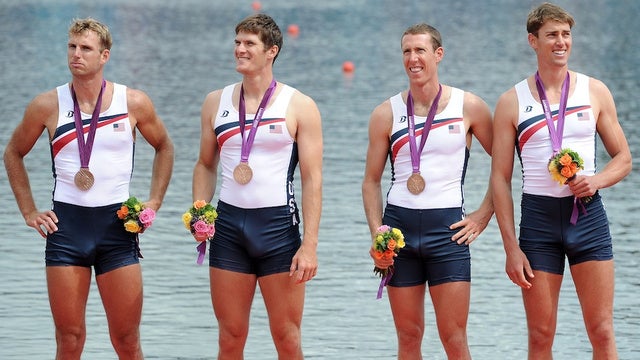 S
Over the weekend, the American team took bronze in the men's coxless four rowing event. But at the medal ceremony, you could be forgiven for ignoring the first- and second-place teams, and indeed three-fourths of the U.S. team. Instead, all eyes were on Henrik Rummel. (Rummel and his penis are second from left in the above photo.)
Even Gawker got in on the action, declaring Rummel a gold medalist in "having a boner while wearing short shorts," which I believe is a demonstration sport and will receive full status at the Rio de Janeiro games. But Rummel himself would like to set the record straight.
"This is me and I swear it's not erect!" Rummel wrote in the comments of a Reddit post of the photo. "I don't know why it ended up in that position but there you go."
Rummel followed up with (above-the-waist) photo proof that it was him, so I guess we're forced to take him at his word that he was at least semi-flaccid. Which means stop bragging, you world-class athlete and Olympic medalist with a giant bulge.