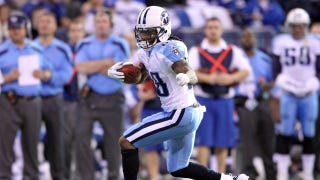 Yesterday, Tennessee Titans running back Chris Johnson told the Tennessean that he thought he could beat Usain Bolt in a 40-yard dash. Johnson said:
I feel like if I would have kept training for track I'd have a chance, but I play football and he runs track, so it's totally different. I think I could still probably beat him in the 40. If I actually trained for the distance he trained for, I think I'd have a chance.
Gauntlet thrown! Since Johnson made those comments, the internet has been abuzz with speculation about how Bolt's speed would stack up in a 40-yard dash, and other NFL players and personalities have weighed in.
The Pittsburgh Tribune-Review solicited comments from Steelers wide receiver Antonio Brown:
Randy Moss is really fast. Mike Wallace is pretty fast, too, But no question (an NFL player could hang with Bolt). Could I? Possibly, uh, no question.
Right. So Brown could possibly "hang" with Bolt in a race, no question. Possibly.
Former NFL coach and current analyst Brian Billick gave us his thoughts as well, coming to his decision with the help of some mysterious mathematicians:
So that's what math has to say about it! But what does Falcons wide receiver Roddy White think?
White isn't known for making sense on Twitter, but he may actually be close to hitting this one on the nose. NFL.com's Dan Hanzus tracked down Mark Gorsack, the official starter for the 40-yard dash at the NFL combine, and got his expert opinion. When asked if Bolt could break a sub-4.0 time in the 40, Gorsack was skeptical: