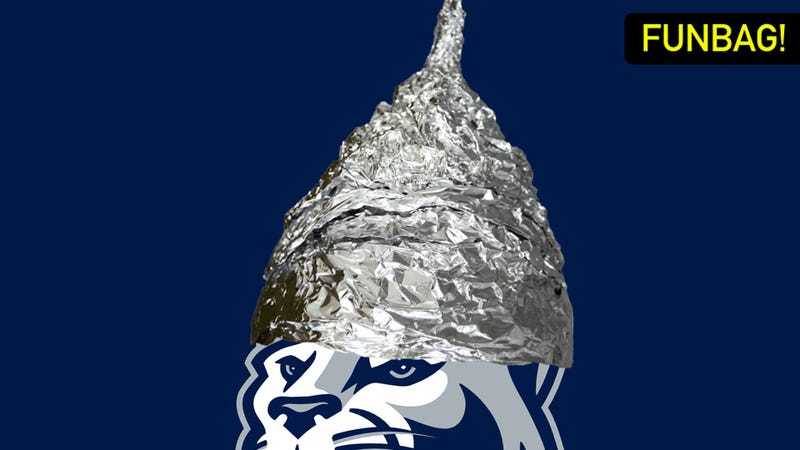 Time for your weekly edition of the Deadspin Funbag. Got something on your mind? Email the Funbag. Today, we're covering Superman, office fights, trouser penis, and more.
Your letters:
Jason:
What are the chances that Joe Paterno killed himself in January? I mean, he lied to a Grand Jury, knew about all the raping going on and did nothing about it, I think his cancer was the perfect get out of jail free card. "Oh I have lung cancer? Hook me up to that morphine bitch!" Why not? He probably didn't have much longer and instead of facing all of this shit like a man, why not pussy out and pay off a doctor to end it early? If there is anything we've learned about Joe Paterno it's that he knows how to cover shit up.
Well now that's you've espoused the theory, I have no choice to believe it 100 percent. And radio host Steve Czaban has also endorsed the idea that there's a reason that Paterno never reported Sandusky to police, because he thought Sandusky had plenty of shit on Paterno: illegal contact with recruits, shady connections with agents, etc. Now that Paterno is dead, we can pretty much toss around any conspiracy idea we like, because dead people can't sue for libel. Therefore, I think Paterno bit down on a cyanide capsule because he knows that Sandusky once saw him diddling Joe Posnanski in a closet back in '82. THAT'S A FACT.
By the way, one of the great lies spewed forth by college coach hagiographers is the idea that college coaches personally change the lives of their players for the better. Take it from someone who rode the bench in Division III: After being recruited, college football players almost NEVER spend any time hanging out one-on-one with the head coach. The head coach is the CEO of the operation. He has a million things to do: plan practices, review tape, gladhand boosters, bang a local waitress, etc. The last thing any head coach wants is to be bogged down for an hour listening to little Johnny ask him for advice on what to do after knocking up his girlfriend. I guarantee you that the average Alabama starter has never been in a room alone with Nick Saban at any time since enrolling in school. Not a fucking chance. Head coaches don't make a difference in players' lives. That falls to position coaches. Position coaches are the ones that players actually spend time with on a regular basis. The idea that there's ever been a head coach who has successfully won games and acted as a close father figure to every single player on the team is one of the great lies of modern sportswriting. Poor Posnanski is learning that shit the hard way.