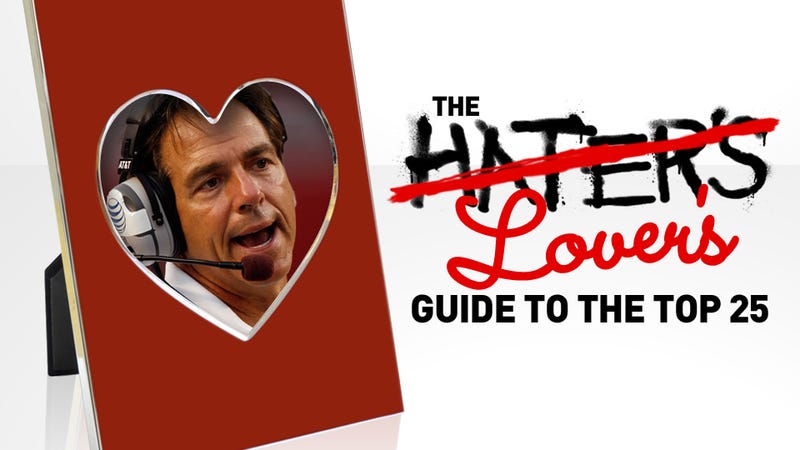 Every year, we preview the upcoming college football season with a Hater's Guide to the Top 25, and every year I make the same jokes about Ohio State fans being dumb and Alabama fans being racist (it's true!), and it's always a great deal of fun. But this year, between the Hater's Guides and the Why Your Team Sucks installments, I dare say I'm hated out. It's unhealthy to hate so much. If I keep hating at this rate, there will a be river of pink ectoplasm running under my house, and the bathtub will try to eat my baby. The time has come not for a Hater's Guide, but for a Lover's Guide, in which we say all kinds of drunktastically nice things about every program in the Top 25.
Because college football could use the support. Between the NCAA's tyrannical ways and all the molester coaches, college football has had a rough go of it lately. And I hate to see that happen to a sport that so gloriously warps the perspective of so many Americans, particularly in the Southeast. If people are willing to poison trees and cover up rape and tear scrotums in the name of college football, well then college football is surely something special, is it not? I say YES. And now the BCS is finally DYING! There are only two more seasons until you never again have to bitch about college football not having a playoff, because it will have a playoff, and it will grow and grow and grow until it occupies four months on the calendar. It's gonna be fantastic, and so today we salute the sport for somehow, despite all its inherent idiocy, managing to unfuck itself. At least a little.
Now, as with any Hater's Guide, this Lover's Guide has been written with virtually no knowledge of the schools or teams listed. Because the key to any good Lover's Guide is not just a healthy dose of ignorance, but a healthy dose of PROUD ignorance. It's easy to be uninformed, but it takes a real man to stand up and congratulate himself for just how grossly uninformed he is. And I am just such a man. I don't know anything about Oregon, really. Looks like it's filled with hipsters and serial killers. But I LIKE that stereotype, and I will proudly fight to the death to defend it. Also, please note that I am from Minnesota, and therefore I often end up being a bigger asshole when I'm trying to be nice to people, instead of just openly speaking my mind. Now, to the AP poll, because the coaches' poll is stupid and useless:
1. USC. SONG GIRLS SONG GIRLS SONG GIRLS GOOD GOD SONG GIRLAGE. It's the sweaters that really put them over the top. There isn't nearly enough sweater porn on the Internet. There is no FUCK YEAH HOT GIRLS IN TIGHT SWEATERS Tumblr feed. There's a ugly sweater Tumblr, a cat sweater Tumblr, AND a men-in-sweaters Tumblr. But somehow, one of the hottest weapons in the female arsenal gets short shrift. It's not right. Ever see a woman in a sleeveless tight sweater? ALL KINDS OF BONER.
Turning our attention to football, how much fun is it that USC is ranked No. 1? That'll make it all the more enjoyable when the Trojans get destroyed by an SEC school in the national title game. USC is 10 times more lovable when it's getting crushed. And I remain in awe of Lane Kiffin, a man who now sits atop the college football rankings without actually having done anything, ever. He's amazing. I think the key to his success is that, late at night, he transforms himself into amiable comedian Mike Birbiglia.
When I was a kid, I had extensive daydreams about going to college in California and pulling all kinds of zany pranks with my bestest fraternity buddies and nailing hot blondes that all looked like Nicollette Sheridan in The Sure Thing. More often than not, my dream school was either USC or UCLA. This was before I grew up and found out that UCLA is the nice school and that USC is located in a shit dump and populated exclusively by dumb rich kids. It's the SMU of the Pacific region. Anyway, GO TROJANS!
2. Alabama. I appreciate Nick Saban for being, in essence, the anti-Joe Paterno. There's no illusion of affection here. No coddling. No "I'm going to turn these wayward young boys into fine young men" bullshit. Saban is precisely what a college football coach should be: a merciless, evil man who will eat your liver raw if you dare get in the way of him winning football games. Anyone not interested in winning games can go get FUCKED, and I find that kind of attitude refreshing in a sea of phony sentimental profiles of coaching legends. No one loves Nick Saban, and that's good because no one should ever love football coaches. Football coaches are horrible people.
And I salute Alabama fans for their terrifying devotion to FOOTBAW. Can you imagine what Alabama people would be capable of without football to occupy them? I think we should all be happy that the Crimson Tide are there to distract them from starting Racial Holy War. Such shiny helmets. Also, RUSHBIDDIES.