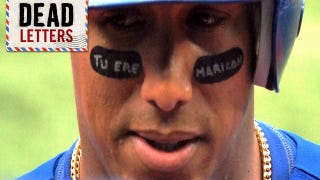 Welcome back to Dead Letters, the feature in which we reprint our favorite fan mail from throughout the week. It's like Deleted Scenes, but without all the scuzz money. We should take this moment to remind you that all emails to Deadspin and its editors are on the record unless otherwise specified. Now for your letters.
Subject: Nasty girl bongs beer with some humor
From: Nathan Barnhart
To: The Staff

I have a video of a nasty girl bongin beers that was very humorous if u want to look at it I can email would be a honor to make the website
Sent from my iPad
Subject: Wow gifs. You're at the forefront of internet technology.
From: mikepants34
To: The Staff

[No text.]
Subject: faggot