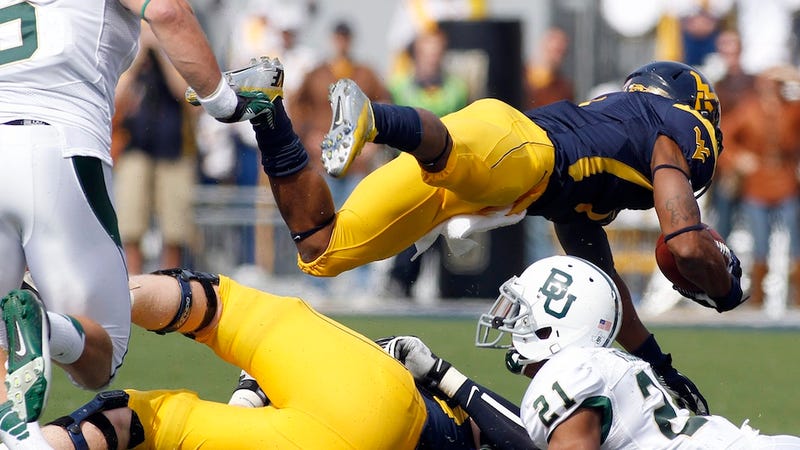 It's time for a new installment of Deadspin's college football rankings. As always, the teams are ranked according to the logic and values of college football, no matter how bizarre or contradictory they may be.
1. Alabama (5-0) Previous rank: 1
A week after embarrassing themselves by allowing Florida Atlantic to score a touchdown, the Crimson Tide gave up two more to Ole Miss, including one that put them behind, 7-6, before winning 33-14. Alabama also gave up more than 100 passing yards for the first time in three weeks.
2. South Carolina (5-0) Previous rank: 2
Rushed for 200 yards to beat Kentucky, 38-17.
3. Oregon (5-0) Previous rank: 3
Maintained brand identity with 51 points and 300 rushing yards to beat Oregon Washington State on the road.
4. (tie) Georgia (5-0) Previous rank: 4
4. (tie) Florida (4-0) Previous rank: 4
6. [vacant] Previous rank: 6
The line of irrelevance is preparing to leapfrog the loser of the Georgia-South Carolina showdown.
7. Kansas State (4-0) Previous rank: 7
8. West Virginia (4-0) Previous rank: 13
"Ooooh-wheee." The numbers on the Mountaineers' 70-63 brushfire win over Baylor are so loony all over the stat sheet—8 passing TDs for Geno Smith! 1,507 yards for the two teams!—all there is to do is stare at the bottom and wonder how they fit in two punts apiece.