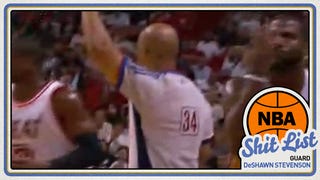 A celebration of the NBA's most infuriating players, both past and present. Read other NBA Shit List entries here.
As far as I can tell, the only good thing DeShawn Stevenson has ever done on a basketball court was hacking Ricky Davis after his infamous wrong-way triple-double attempt. Even then, I kinda think that was more Jerry Sloan using telekinesis or some other sort of mind control because DeShawn Stevenson is the king of being wack.
Never once has he put up an average PER and never once has he had a positive WARP. But if you were to ask DeShawn Stevenson about his PER and WARP, he'd probably punch you in the Dickens, tell you stats are for nerds, and then walk off like he's the Will Smith of the NBA.
And that's the main problem with DeShawn Stevenson. When his Wizards teammate Gilbert Arenas went through the looking glass, Stevenson tagged along, only without the part where he justified his share of the madness by putting up any 50- or 60-point games. Or 35-point games. If, for one wild moment of basketball history, Arenas's swag was phenomenal, Stevenson's ongoing swag is inexplicable.
This is a bit player, a guy who contributes above-average defense and sometimes makes threes—and carries himself like he's Michael Jordan. That, by the way, is the guy NBADraft.net compared him to coming out of high school. And that, by the way, is another reason he's my least favorite player in the league. In reality, he's a cut-rate inverse of J.R. Smith, a tattoo-covered dude who is good only on one side of the ball, but even then isn't nearly as good on that side of the ball as he'd have you believe.
Speaking of those tattoos, come on. He's got a crack tattooed on his forehead that means "I don't crack," which is literally the opposite of what a crack on your forehead would mean (it would mean you have cracked). He has a backward "P" on his face that he swears looks the right way if you stand far away from him. He has Abraham Lincoln on his throat because "He freed the slaves," but really because he wanted Martin Luther King Jr. but was scooped by Gilbert Arenas and had to scramble. Oh, and then he turned it in to a $5 bill because no one could understand why he'd get Abe Lincoln on his throat, which just goes to show that if someone steals your brilliant throat-tattoo idea, maybe you shouldn't get the second choice.