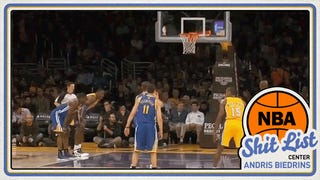 A celebration of the NBA's most infuriating players, both past and present. Read other NBA Shit List entries here.
Oakland's City Center is a collection of chain eateries that would be more at home in suburban San Diego than a city famous for violent crime and Bubb Rubb. It's the sort of place where inoffensive jazz quartets murder the standards for white-collar types on their lunch break, where kids play hooky from middle school, where the toughest decision anyone makes is "La Salsa or Popeye's?"
It was also, at least in 2004, where the Golden State Warriors introduced their newest draft pick to the public. That no one in attendance seemed to care did nothing to dissuade them.
For context: The Warriors' 2003 campaign was notable only for its perfunctory mediocrity. This was years before the We Believe team endeared themselves to America by upsetting the Dallas Mavericks in the first round, years before Stephen Jackson came to town, years before Baron Davis got fat, then left town to be called fat by a dissolute manvermin. The 2003 Warriors had holes everywhere, but they were especially thin at center, a position manned by the four-headed shit-hydra of Adonal Foyle, Cherokee Parks, Erick Dampier, and Popeye Jones.