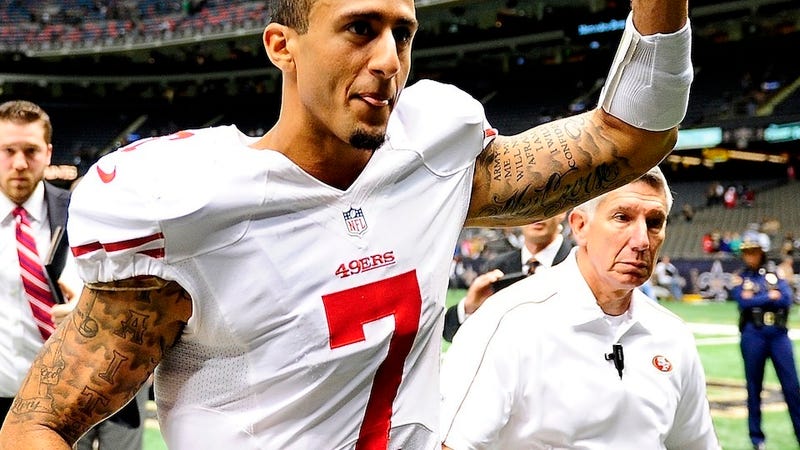 So this had no purpose but to get attention, and now it has: a remarkably racist column about biracial 49ers QB Colin Kaepernick written by AOLSportingNewsFanhouseBleacherMuckrackGrid writer David Whitley. Kaepernick's parents have already seen it and openly lambasted it. And KSK's Mike Tunison pointed out that AOL added a "David Whitley's opinion is not reflective of the opinion of AOL, Inc." slug at the bottom of the piece well after it first posted.
So what did Whitley, who appears to be a real working columnist and not an elaborate Tim & Eric prank, write that got everyone so pissed off? He actually defended Lane Kiffin. No wait. That was a different shitty Whitley column. This one is about how Kaepernick's tattoos make him look like a criminal.
San Francisco's Colin Kaepernick is going to be a big-time NFL quarterback. That must make the guys in San Quentin happy.
Those are the first two sentences, so you already know that Whitley isn't even bothering to try to be subtle about the racism here. No no, this is full-on RAYCESS: "Did you ever have something happen that was so racist that you didn't even get mad?"
That's the kind of racism we're talking about here. It's like Cowherd's John Wall rant, but without all the complexity and nuance that Colin Cowherd always brings to the table. Welcome to the NFL, Mr. THUGGY THUG-SKINNED THUG. Who IS Colin Kaepernick's daddy?