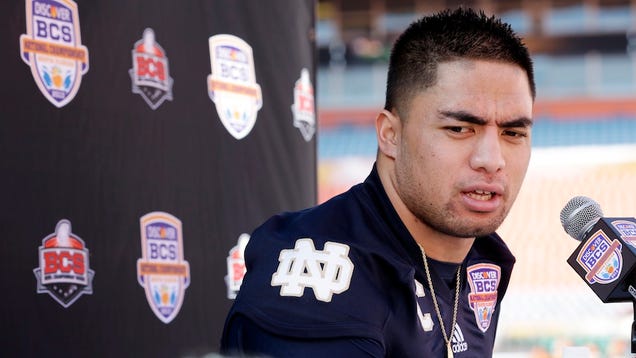 At his teary press conference last night, when pressed on details that didn't add up, Notre Dame AD Jack Swarbrick promised to let Manti Te'o tell those parts himself. Te'o, Swarbrick said, would be addressing the media "soon."
This morning, Yahoo's Pat Forde (who remains convinced that Te'o is the victim, and that "Deadspin, too, must be willing to make an accounting of itself," tweeted that Te'o's first media appearance was set. A one-on-one, sit-down interview with ESPN's Jeremy Schaap.
I've been told by two people that ESPN's Jeremy Schaap will conduct the Manti Te'o interview. Jeremy is an excellent reporter.

— Pat Forde (@YahooForde) January 17, 2013
An hour later, ESPN Chicago radio hosts Waddle and Silvy reported that the interview was off.
By the way, on @waddleandsilvy, the guys told me Bristol called. ESPN/Schaap sitdown with Manti Te'o was "scrapped." Just passing it along.

— Brian Hamilton (@ChiTribHamilton) January 17, 2013
USA Today's Dan Wolken followed up with a statement from an ESPN flack.
ESPN spokesman says they are pursuing Te'o interview like every other media outlet. So, appears nothing scheduled as of this moment.

— Dan Wolken (@DanWolken) January 17, 2013
It's not clear whether ESPN landed and lost the interview, or if they never had it in the first place. But there are two decent reasons for Te'o to look elsewhere when he wants to tell his version of events. First, Jeremy Schaap fancies himself a hard-hitting interviewer, and wouldn't let this sit-down go by without asking specific, pointed questions that leave no wiggle room for non-answers. Te'o's statement contains facts that don't mesh with what's been reported, so it would be very easy for Schaap, if he wanted to, to pin Te'o down on a lie. Much better for Te'o to find another, softer interviewer. Like, say, Oprah.
The second reason ESPN might not be the best fit for Te'o is his newfound professional status. It was announced last night that Notre Dame is no longer handling his media availability—he's now represented by agency CAA, which signed him as a client last week. This means he can now be paid for interviews and appearances (so-called checkbook journalism), and ESPN generally doesn't pay. Lots of other places do, though. Like, say, Oprah.
There's been no further word this afternoon on Te'o's first public appearance. Outlets are competing to get him, and he and his representatives will decide which option promises to be the most profitable and sympathetic.