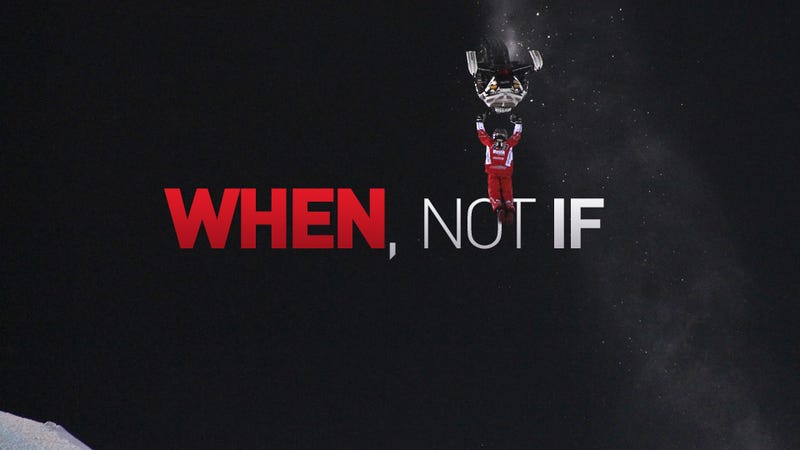 A week ago at the Winter X Games, 25-year-old Caleb Moore was in the midst of a stellar run. The three-time medalist was putting on a clinic in the finals of Snowmobile Freestyle. He was landing flips and body varials, and he seemed destined for the podium. Then everything went wrong.
He hit one of his last jumps a little too slowly and under-rotated his backflip. The snowmobile's skis dug in; he went flying over the handlebars, and then the 450-pound machine rolled over him. He hobbled off the field with a concussion, then later developed bleeding around his heart. Things were looking good for a while, but now there seems to be a complication involving his brain. The kid's grandfather has said publicly that it's "almost certain he's not going to make it." [Update: Caleb Moore has died.]
If Caleb doesn't survive, his will be the first death in the 18-year history of the X Games. The way action sports are evolving, the next 18 years won't be so peaceful. I've been a longtime fan of the games, but this was my first year in attendance. As I watched these athletes fly over my head, it really hit home just how miraculous the zero-casualty rate was. "Maybe it's safer than it looks," I thought for a brief moment. And then they started dropping like planes over Midway.
Caleb Moore's was the first and worst crash I saw, but he was followed closely by his younger brother, 23-year-old Colten Moore, who crashed on the exact same jump and separated his pelvis. The next night I watched as snowboarder Halldór Helgason attempted a laid-out triple backflip in the snowboard big air event. He flew 75 feet and then landed on his head. Everyone thought for sure he'd snapped his neck, but he'd been lucky and was carted off with only a concussion. On Sunday, slopestyle skier Rose Battersby, 19 years old, missed a landing off a jump and fractured her lower lumbar spine. At first she appeared to be paralyzed, and on TV you could see her being transported down the slope in what looked frighteningly like a yellow body bag. Another slopestyle skier, 25-year-old Ashley Battersby (no relation to Rose) broke her leg during her final run. In the snowmobile best trick competition, Jackson Strong, 21, missed a grab on an insane backflipping varial and thudded to the ground some 30 feet below. Strong was fine, somehow, but his snowmobile's throttle locked on, and it charged full-speed into the crowd. No one was hurt.
On the ground, the crowd careens between extreme elation when an athlete sticks a big move and abject horror when they crash. The sound the fans make isn't the sound you hear at NFL games after a big hit. It's more like a collective gut-punch. Everyone just sags. Even the Red Bull-powered juvenile delinquents stop calling each other "faggot" long enough to stiffen to attention, trying to absorb what they've just witnessed. Extreme sports fans get off on the threat of violence, not its arrival.
I spoke with fans, athletes, and contest personnel who have attended every single X Games since 1995. It was a variation of the same conversation every time. "All of these guys are crazy, but those snowmobile guys, that's a whole other level of crazy." Even the snowboarders—people who are doing switch backside triple cork 1440s off a gigantic ramp—thought so. But the prevailing sentiment, the one that could be heard in the stands and on the shuttle buses and even in the douchey bars of Aspen, was: It's amazing that no one has died yet. [Update: As a commenter has pointed out, I was remiss in not mentioning freeskier Sarah Burke, who died last year after a superpipe crash while training for the X Games.]