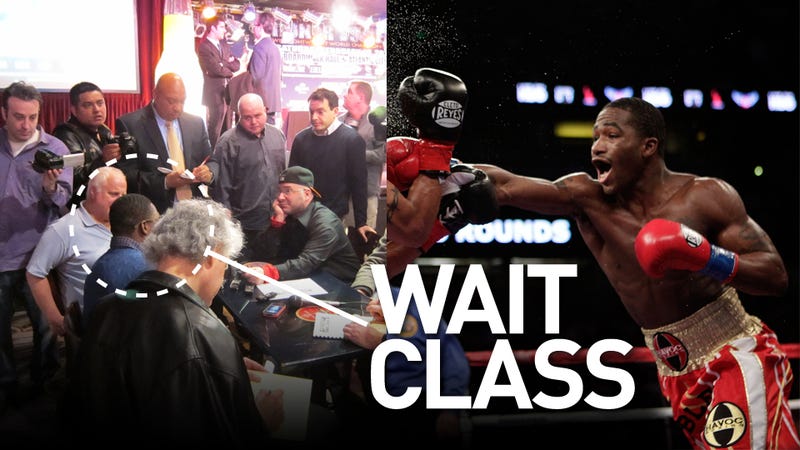 Adrien "The Problem" Broner—23 years old, 135 pounds, undefeated, and one of the five or so best boxers in the world today—rolled into the lobby of 1221 Avenue of the Americas just before 10 a.m. Tuesday morning, along with two coaches, his friend, his large, superfluous security man, and a harried-looking PR woman from Golden Boy Promotions. The first radio interview of the first day of his first major pre-fight media tour started in six minutes. This would give us some time to get to know each other.
This Saturday night, Broner will fight overmatched Welshman Gavin Rees in Atlantic City. Broner has become enough of a star that his promoters thought it worthwhile to bring him to New York City for a day to hype the fight to the collected media. I was along for the day, a fly on the wall. The primary thing that I learned from this exercise is that, in boxing, the fights are important; everything else is just a creative form of waiting around.
At 10 a.m., sitting in the 36th-floor lobby of Sirius XM, Adrien Broner—blue sweater over checked button-up, jeans ripped in a fashionably deliberate manner, tan Timberlands, aviator shades, and ever-present earbud headphones plugged into his phone—was an unenthusiastic interview subject. He has a reputation for being "colorful," and indeed he does seem to light up before cameras and microphones and crowd, but here, with just me and a notebook, his answers were desultory and distracted. In his defense, I came to find out that every single member of the media he encounters, myself included, asks him the exact same questions. So when I asked him to predict the outcome of the fight and he said, "I don't make predictions, I just show up and fight," or when I asked him if he's always been "colorful" and he said, "I was born that way, that's just me," or when I asked him when he's going to move up to a more challenging weight division and he said, "It doesn't matter, I'll make any fight look easy," his responses are best understood not as meaningless platitude, but as a honed verbal reflex to the same basic set of questions that are repeated to him over and over and over again by his interrogators. In the same way that he has learned to slip a jab, Broner has learned to say, "I don't watch tape of my opponents, I just train to stay in shape" whenever some asshole like me asks him for his strategy in his upcoming bout. Celebrity requires muscle memory, too.
Joe Budden was also in the Sirius lobby. Broner—a rapper himself—did not seem to know who Joe Budden was, but posed for a photo with him nonetheless. Then down a carpeted hallway to Renada Romain's cramped studio, where the first question was about the Illuminati.
"Do boxers join this alleged organization?" I couldn't tell how much she was joking.
"They ain't come to me yet," Broner replied.
What became clear over the course of the day was that Broner's "colorful" reputation—his reputation for playing to the cameras and saying outrageous things and generally comporting himself as a brash and careless young superstar—was a function of the relatively low wattage of the sport's star power. He can best be understood as a cheerful young guy who has found that the boxing media are mostly a bunch of credentialed Stans who are desperate for any storyline and who will laugh uproariously at even the most minor display of personality, and he is quite rationally playing to that tendency. In person, Broner does not come off as someone burning with political passion like Ali, or as a deeply wounded soul like Mike Tyson, or as a cash-horny Barnumesque villain like Floyd Mayweather. He comes off as a fairly happy 23-year-old who has found that everyone will laugh at whatever he says. So he keeps saying stuff. If what he says doesn't make sense, it doesn't matter. The media will fill in the blanks for him.