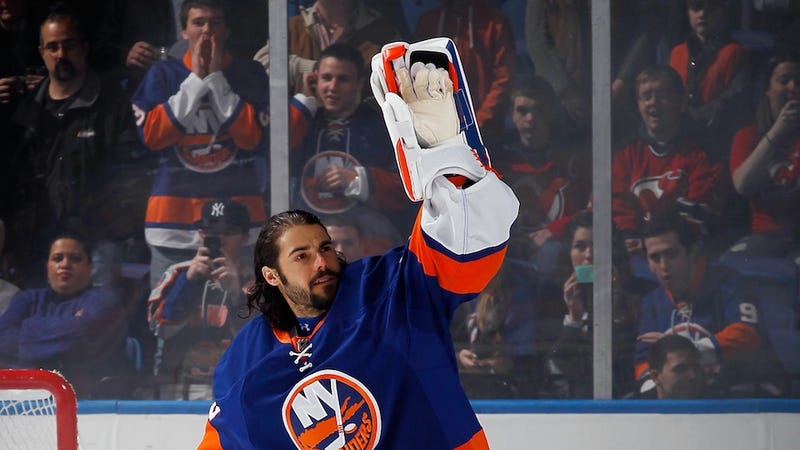 Islanders goalie has had a week to come to terms with being waived, and possibly the end of his star-crossed NHL career. Yesterday he sounded upbeat about his AHL assignment, telling Newsday, "The last couple of years, with all the injuries, if it's taught me anything, it's that I need to enjoy what I do."
Today his words aren't so sunny, but they're perhaps even more honest. DiPietro did an interview with News 12, and the reporter tweeted out a pair of teases:
(After the initial fuss over the comments, DiPietro made clear that he was "totally kidding" with the suicide remarks, but that the depression was very real.)
For a little more context, here's DiPietro last April:
Half-joking, he said: "There were times I was driving over the Throgs Neck Bridge and I thought I'd veer right and end it. It's tough times. This is a tough business. Physically, it's hard, but mentally, it's incredible. I always say you've got to laugh to keep from crying, because there are those days when you sit in the stands, and your teammates are like a family."
It's easy to forget this now, but for a few seasons there DiPietro was a legitimate superstar. The year he signed his infamous 15-year deal, he was arguably the best goalie in the NHL. His story's not a unique one, though it is colored by the abruptness of his fall-off and the magnitude of his contract: He's an athlete who lost the ability to play his sport. He's not the first or the last to deal with depression because of it.
Of course we feel bad about what happened to DiPietro—his career ended long before he was ready, and selfishly for us, we were deprived of a great young American goaltender. I don't believe that means we need to feel bad about all the jokes at his expense over the years. Yes, this headline reads very different in retrospect, but I'm not particularly feeling like an asshole for it. It's a shot at Bridgeport, not DiPietro. The jokes about Rick DiPietro were never on Rick DiPietro.