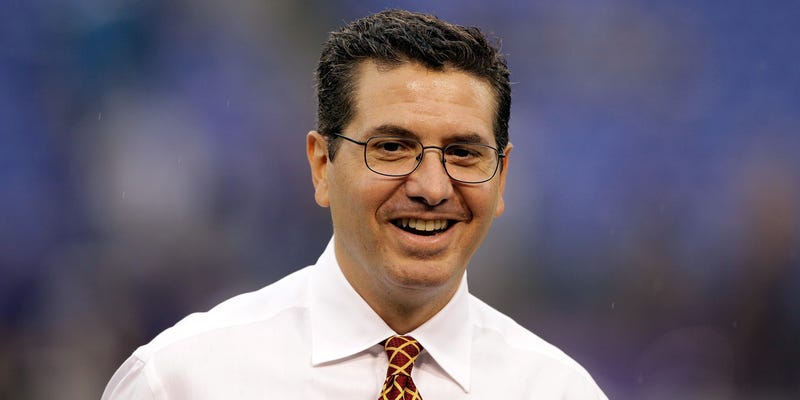 Bruce Allen is the Washington Redskins' president and an unwitting jokester, well-known for such thigh-slappers as his claim that no matter how bad the team is, they're "winning off the field." He accidentally inspired more guffaws last week by claiming that his boss, team owner Dan Snyder, "doesn't get involved" in personnel decisions.
Nobody believed Allen; anybody at all familiar with him knows that Snyder is just about the nosiest owner in any major American sport. And that's why everybody now believes that Snyder's hand was at work in a major personnel decision at his sports radio station, WTEM-AM, also known as Sportstalk-980 and ESPN-980, that saw a moderately anti-Snyder host thrown off the air before he ever even got on.
"The beat goes on," one former Snyder employee tells me.
Sunday afternoon, rumors circled the Beltway that The Man Cave, a show about to debut on WTEM, had been canceled just a day before its scheduled rollout. Jason Reid, a former Redskins beat writer and then columnist for the Washington Post, had just quit his job at the newspaper—where he was occasionally tough on the team and its management, particularly late in his tenure—to host the program. Wised-up types circulated conspiracy theories alleging that Snyder had orchestrated Reid's hiring just to get him out of the Washington Post, but that gives the owner far too much credit as a tactician, say two sources familiar with the situation. Instead, the sources claim, Reid got bounced from his radio gig at the 11th hour because Snyder only recently found out that he'd been hired.
"Jason Reid has been disliked by [team] management and Dan for years, ever since he was a beat reporter," says a former Snyder employee familiar with the situation after talking with ex-colleagues. "For the radio guys to go down that path and try to hire him is bold, no question. But, ultimately, Dan wasn't in the loop on that hiring, and once he got looped in, he made them correct it. For anybody to speculate there was any strategic evil play here, they're kidding themselves. They're not strategic with anything at Redskins Park. The evil they do is always reactionary. What happened is, this finally filtered up to Dan, and whenever something like that happened he would blow his stack and say, 'Correct this or you're fired!' He never cares about the trail of bodies left along the way."
(In this case, the trail appears to include WTEM program director Chuck Sapienza, who hired Reid and assembled the team for The Man Cave. The Washington Post's Dan Steinberg tweeted today that station management was telling employees that Sapienza had "resigned.")
If there's irony in the situation, it's that anyone who has followed Snyder's dealings with the local hacks can't be surprised at all. Snyder has long used his money as a tool to reward, co-opt—and punish.