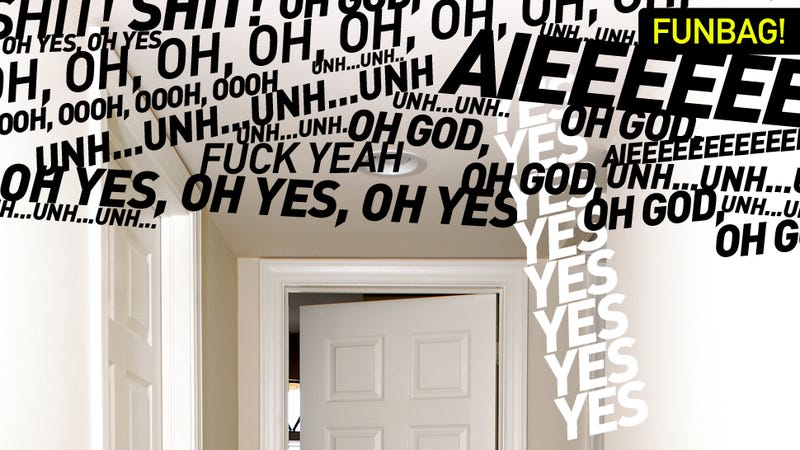 Time for your weekly edition of the Deadspin Funbag. Got something on your mind? Email the Funbag. Today, we're covering Black Batman, fetish porn jobs, toenails, and more.
Time for your letters.
Mike:
My upstairs neighbor, who has some mental health issues, listens to porn daily at a very high volume. This is the major hardcore porn variety. He does this every morning between 5 and 9 am. I have had no success in quelling the behavior. Hitting the ceiling, leaving notes, calling management, all to no avail. I absolutely do not want to approach him. That would be slightly awkward. I understand everyone watches porn (including me), but does one have watch it at 100 decibels?
He must have mental health issues if he's watching porn at 5am. Let's ease into this day, shall we? Let's not start off RIGHT AWAY with four straight hours of anal bead close-ups. That can't be good for you.
I would call the police on him. I really would. Blasting fuck noises at 5 a.m. surely counts as disturbing the peace. It's every masturbator's worst nightmare to be caught mid-fap by the police. By calling the police, you either A) shame him into finally stopping or B) prove that he should be hauled off to the loony bin. If a SWAT team raid can't keep him from doing it, then surely you've proven that he needs to be institutionalized. You could put the average man in a soundproof box and he'd still keep the porn volume low in fear of being overheard.
Also, you could buy your neighbor headphones. Why wouldn't you use headphones? I want this man investigated by Frontline.
Chris:
In the wake of the unfortunate news that Ben Affleck will be the new Batman, my friends were discussing the possible alternative actors. The consensus was pretty much anyone would have been better. Being the racially blind saint that I am, I suggested Jamie Foxx. Could Batman ever be black? If so, would the movie unfold normally but with the Wayne family being black? Or would some winded explanation of how a black family came to be the richest and most powerful in Gotham be required?
Why would you need to explain how the black Waynes got rich? Are you suggesting they couldn't have possibly acquired such wealth and power through legitimate means? YOU ARE RAYCESS.
I don't see why Batman couldn't be black. I'm used to Batman being a white dude, but that doesn't mean it always has to be the case. Batman can be black and James Bond can be black and Spawn can be white for all I care. OR WHY NOT HAVE LENA DUNHAM PLAY ALL THREE?! If you find the right actor to pull it off, it shouldn't matter unless race or gender or sexual orientation is somehow absolutely relevant to the soul of character. You couldn't have a white Django, for instance. And making James Bond gay would be a mistake because Bond's ability to seduce female enemies (and his weakness for them) is part of what makes him him. I try to be all open-minded about this sort of thing since I write for the powers at BIG GAY, but Bond needs to be a womanizer for the character to work.
The only thing that rankles me is when people openly demand for a longtime pop culture character to be played by someone from a different demographic, as if it MUST happen, as if hiring a female Doctor Who is some kind of crucial step forward in human progress. Secretly, if they ever made Batman a woman, I'd blanch. It says BatMAN. BatGIRL is a whole other, lamer thing, I tell you. That's science!
Mike:
How would today's ESPN cover the chain of events in Ace Ventura: Pet Detective?
"Should the Dolphins be allowed to sign Tebow?"
Someone kidnapping a show-dolphin is such a #FLORIDA move. Anyway, Snowflake's abduction would probably be drowned out by ESPN fawning over the '72 Dolphins (reuniting for the game because FUCK Mercury Morris) and the big story of a Super Bowl team playing in its home stadium for the first time. Even though ESPN (and the media in general) is constantly looking for anything to cover during the buildup to the Super Bowl, it wouldn't be until Roger Podacter's murder (according to the script, he was a former Dolphins linebacker) that the story would gain more traction. And then it would completely blow open with Marino's kidnapping the day of the game.
I would actually WATCH the Super Bowl pregame show for the first time if that happened. Should the game be delayed? (NOTE: The Ginger Hammer would never postpone it in the face of logistics, fan refunds, and ad buys) Did the Eagles (WTF the Eagles make that Super Bowl in that movie) kidnap Marino? Was it a deranged Eagles fan? Was Daulerio's father behind all this? BUT WHERE WAS MAMULA?! I'm sure ESPN would have all kinds of insane information about the kidnapping plot that they would be forced to bury at Roger Goodell's behest. And then Jay Glazer would break the story and Adam Schefter would re-package the information six seconds later.
After the standoff with Einhorn and the Finkle revelation, Twitter would blow the fuck up. A @FloridaTrans feed would immediately get 100,000 followers. ESPN would run several tasteful editions of First Take centered around the topic Are WE To Blame For Finkle? Chris Broussard would politely say that Finkle should go to hell for dressing as a woman. Oh, and the Eagles would have lost the game, because they're the Eagles.
Mic:
If you had to chose between never clipping your fingernails or toenails again, which would you choose? For sake of the question, let's say you had to wear shoes that accommodate your toe nails. i.e. Birkenstocks 24/7
So people would see my hideous toenails no matter what? BARF. Even if your shoes could accommodate your overgrown Frito toenails, they would still affect how you walk and probably cause you back and joint pain regardless. Then again, having footlong fingernails would essentially render your hands useless. Getting your phone out of your pocket would take hours. I guess I pick the toenails. Christ.
Long nails are repulsive. I know I'm one to talk since I'm a nailbiter, but if your nails go past your fingertip by more than an inch, you look like a coke dealer/vampiress/filthy hippie/serial killer. It makes other people nauseous. AND YOU CANNOT PLAY BATMAN.
Dan:
If you knew you were going to fall to the depths of Niagara Falls, would you choose the time of your leap, or wait until you were forced to jump? There is no way out of either decision. Let's say you have one hour until you're forced to jump. Do you choose your own time or wait out the time allotted?
I don't know about you, but every time I'm about to jump into a cold pool or jump down from a height of more than two feet, I ALWAYS make sure to stand there for a solid 10 minutes psyching myself out. You know the drill. You stand on the edge of the pool. You breath in and out a few times. You say "OK" to yourself, as if you are now more ready to jump than you were three seconds earlier. I AM DOING THIS. I usually go through that whole annoying spiel (unless I want to impress other people around me and I jump in right away so that they know I'm a real man).
So if someone told me I was going to fall to my death, I'd probably stand on the edge of the falls for the full 60 minutes before some asshole pushed me off anyway. I'd also hold out hope that this was all a big joke and that no one would actually push me. And then I would die.
Chris:
How awesome do you think NSA agents do in fantasy football leagues? They literally have unlimited access.
Yeah, but think of how much of Mike Brown's email you'd have to sift through ("If anyone's looking for a 1982 Plymouth with 130,000 miles on it, I can get you a swell deal. -MB") just to get to one decent nugget about AJ Green's head not being in the game because his lady dumped him. Even if you were a wizard with a Gmail search, and even with access to the NSA's propriety email scanning system (cost to taxpayers: forty-eight trillion dollars), you'd miss something important and have to go back through the whole inbox.
I know everyone hates the NSA right now, but I do feel kinda bad for the lackey there who has to work the program that painstakingly combs through the entirety of the country's webmail just to find one decent terrorist lead. I can't even be bothered to read MY OWN email. And now I gotta skim through 50,000 "suspicious" emails from Joey McFuckstick and 300 million of his similarly dull countrymen? Christ.
Eric:
Why can't car manufacturers put the ignition on the left side of the steering wheel? Sub-consciously, after turning off the car and taking the keys out, I always put them in my right pocket. Then, after getting stuck picking up groceries, being the lazy shit that I am, I take all fourteen bags to my locked car in my right hand and, when reaching for my keys to unlock the car, lo and behold, they're in my right pocket. So, I have to drop all my bags to get one stupid key. Is this just a bone that car companies throw at the Lefthanded establishment?
I assume that the ignition is on the right side of the wheel because most people are right-handed. Turning a key with your left hand sounds strained and difficult. I can't even use my left hand to flush a toilet (most flush handles? RIGHT SIDE). Even if they put the ignition on the left side of the wheel, I promise you that, somehow, your keys would end up in the pocket opposite your free hand. That's how it works because, as always, God is greatest hater of them all.
I bought a used car the other day and the car has one of those keys that tucks back into the fob, which is great because A) SWITCHBLADE, B) the key doesn't jab your leg when you sit down, which sucks and C) I am baffled by any car that has a push-button ignition. It says ON. Why isn't turning on when I push it? What did I miss? I feel like a fucking moron. I worked at an office a while back and one time my boss asked me to move his Prius. He may as well have asked me to fly a Harrier jet. I was baffled.
Ben:
Why do my pants only have 5 belt loops? This is a woefully inadequate amount of belt loops to hold up pants for those of us with healthy, muscular posteriors.
Because pant manufacturers know just how lazy you are. I've had pants with extra loops at the back and I almost always either missed threading the belt through them by accident or simply couldn't be bothered. Far too much work. If the pants could be held up with just two loops and a length of packing twine, I'd be game for it.
(ALSO: I have one belt and I never bother changing it up. One time, I got a pair of pants and the loops were somehow too tight for the belt. I really had to work it through. Did I buy a new belt to accommodate these pants? I did not. I never wear them. Fuck those pants. Make bigger loops, people.)
I don't know if this is common practice, but I often thread my belt through my pants BEFORE putting them on. Is that weird? I know that putting on a belt with your pants on can make you feel like Batman (as played by any race/gender), but I prefer to make certain I've got every loop accounted for.
HALFTIME!
Julie:
Is there really such a thing as being "not photogenic"? Aren't you really just saying that someone is ugly?
Not necessarily. For example, I know someone (Spoiler alert: WIFE) who always ends up with one eye shut in every photo taken of her. You'd think I was married to a pirate. Some people are ready instantly with a head-shot smile and their neck turned at a perfect 40-degree angle. Ever go on Facebook and see people who give the EXACT same pose in every photo? It's almost unnerving how good some people are at it. They like having their photo taken way too much. THEY ARE GLORY BOYS.
Jason:
I was reticent about the new Jaguars helmet, but seeing it tonight against the Eagles, I have to say I love it. It's incredibly hilarious.

Here's how it works, which is absolutely brilliant on tv with seeing the Eagles march on a 80-yard drive with no 3rd downs: If the defense gets penetration and a tackle, the helmets are dark. However, if a pass is completed and the entire team has to turn and chase the player with the ball, their helmets suddenly turn yellow. It's like an automatic yellow alert for when the other team turns them into Swiss Cheese. It's the Swiss Cheese Defense alert. Just absolutely brilliant.
If only they deployed a color scheme that went from red to green.
I bet players love the new Jags helmets because players are always into the ugliest, most garish uniform color scheme possible. I wish they had gone with a full-on black matte helmet, because matte helmets are fucking badass. Two years from now, EVERY NFL team will be rocking matte helmets. Only the Jags, Vikings, and Seahawks do it right now, but the people at NFL properties aren't stupid. They know they'll have shitloads of new merch to sell if they open the floodgates and start going full Oregon with everything. Only the 80-year-old "DURRRRR I like those simple Giants unis KEEP IT CLASSY" demo is preventing an outright NFL uni/helmet revolution.
David:
Urinal Stall Privacy... Pure Luxury.
Like seeing a two-dollar bill. So rare in the wild.
---
Shackleman:
Who is the absolute worst singer who somehow has a successful career? I'm going with Britney Spears. She contributes nothing to her music other than her name.
You can pick from any number of pop stars who have had their voices re-processed into oblivion: Britney Spears, Katy Perry, Taylor Swift, etc. In fact, it almost works against you if you CAN sing. If you can sing, that means you can't be re-programmed to sound like everything else on the radio, and that's troubling. Also, singing gets in the way of dancing, which is somehow a priority for many performers. I watched Beyonce at the Super Bowl and she didn't even bother to sing for half the setlist, letting the backing tracks do the work for her. I bitched about this and that immediately triggered my friend Sarah KOGOD's Beyonce Defense Alarm (standard in any white woman under the age of 35). YEAH BUT LOOK AT HER DANCE. So? Dance AND sing, lady. You got paid for that gig. Ease up on the handsprings so you can sing the chorus once in a while.
Anyway, that's kind of a cheap answer because modern pop stars are easy to rip on. It's more interesting to choose a uniquely bad singer, someone whose horrible vocals have remained relatively untouched by ProTools. And that's why I'm picking Billy Corgan, because his voice is fucking terrible and I'd rather listen to a garbage truck back up outside my window for nine hours than listen to Billy Corgan sing, especially when he sings too loud and goes into "dying animal" mode. FOX can go to hell for making "Tonight Tonight" their MLB Postseason theme song that one year. TONIIIARRRRGHHEEEHHHHHHTEHHHAHHH....
Harrison:
If humans could regrow limbs as good as new in say, a two week period, but still felt pain as normal, do you think we would see a rise in amputations among professional athletes with longer term injuries?
I think we'd see a rise in amputations among bookies looking to collect, that's for certain. I assume you could use anesthetic in the case of surgical amputation, but I think it would take a long time for the procedure to catch on with athletes who would be scared about their limbs never growing back. Either way, Darren McFadden would still find a way to miss ten weeks a season.
Jen:
My job is essentially looking at porn all day long. And not good porn: it's pretty much exclusively fetish porn. Hypnotism porn, tickle torture, nipple torture, giantess, BBWs, stuffing fetishes, simulated rape scenes, voyeurism, etc. (literally I could go on for pages and have done it before in PowerPoint form).

Keep in mind I'm a female so I'm not exactly high-fiving my buds all day long about this. But I don't HATE it either. I haven't had this job very long and my question is this: how long do you think people could look at fetish porn eight hours a day, five days a week before they go completely insane? Is my spirit gonna break any day now?
Please note that Jen didn't specify her exact job. I would like to know the law firm/doctorate program/FCC watchdog group forcing their employees to watch eight hours of bondage porn per day. Seems irresponsible. (UPDATE: Jen works for a video platform, weeding out explicit content)
Anyway, I can't imagine that you can look at those kinds of extreme images for eight hours a day and not have your mind affected in some terrible way. It's possible that you could develop an addiction, in which case the pleasure centers inside your brain will only now work if someone plays a video of a donkey being fisted in front of you. The anonymous writer who chronicled his time in sex rehab for Deadspin noted that his therapist said his affinity for animal porn meant he was brain damaged. That sounds bad.