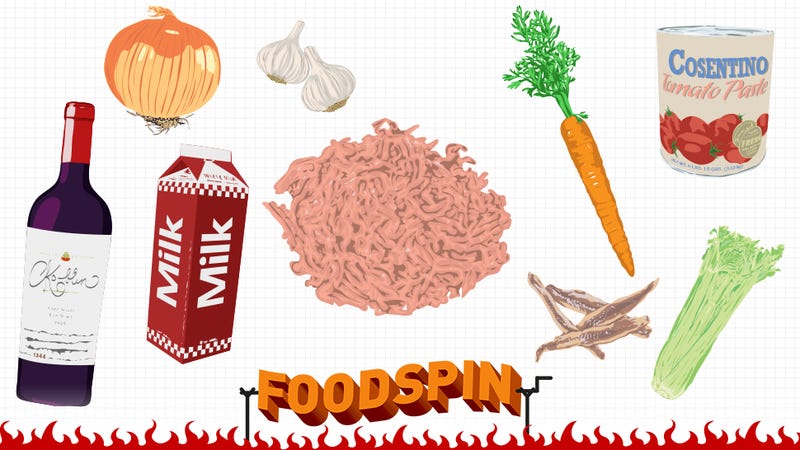 By now you're likely well aware that the word ragù—although perhaps most frequently encountered with its accent symbol flipped over, emblazoned across ten thousand jars of tomato products in your local supermarket—has its own non-commercial definition, other than "bad-tasting Italian-themed ketchup."
This is a thing to be glad for—not that the word ragù has been so effectively bastardized by a corporate brand, but that it originally and still refers to something else. Or anyway, its actual, non-branded meaning is a thing to be glad for, because real, actual ragù—a rich, sticky, intense meat sauce that may contain only a negligible quantity of tomato, if any at all—is one of the very best things about the entire human race.
People make ragù in lots of different ways: the famous Bolognese ragu, which, broadly, is what you're making today, uses finely chopped or ground meat, includes milk and only a small quantity of tomato paste, and in the end has a fairly smooth texture with a bit of gentle granularity from the meat; the meat in a Neapolitan ragù tends to be more like a pot roast that has been braised nearly to dissolving and then pulled apart, and the ragù itself is usually much more tomato-heavy, almost like the Sunday gravy familiar to Italian-American families; your great-grandmother Tinuccia's ragù had friggin' rabbit and pumpkin in it and, you'll be sure to inform us, was The Only Right Way To Make Ragù, Goddammit. And so on.