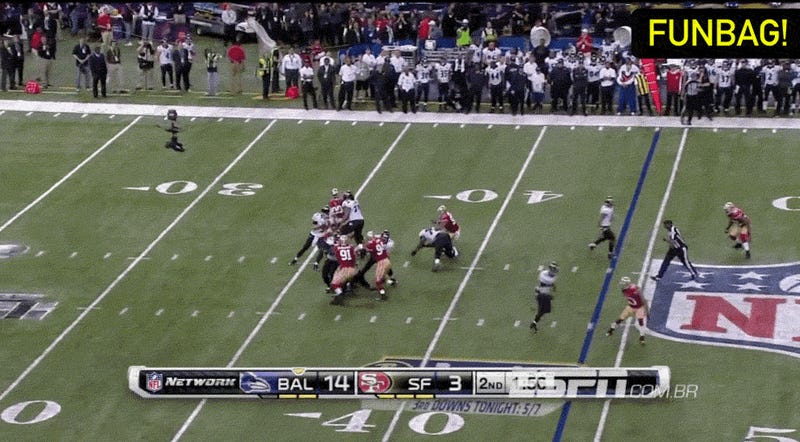 Time for your weekly edition of the Deadspin Funbag. Got something on your mind? Email the Funbag. Today, we're covering trolling, crowd farting, onions, and more.
I was on a flight yesterday and half the people aboard were asleep. And this wasn't some nighttime flight, either. This was at like, 10 in the morning. How the fuck can so many people sleep so well on airplanes? On every flight I board, there are 60 motherfuckers who are passed out with their necks wedged between their seats and the fuselage. I'd pay a hundred bucks for that superpower. I couldn't sleep on a plane if it were 3 a.m. and you'd spiked my drink with ether. I don't get it. Lucky bastards.
Anyyyyway, your letters:
Wario:
Over the past year I've noticed that I have stopped caring about sports as much as I used to. For example in college, I would live and die by how well my teams did. I could tell you the league leaders, standings and upcoming big games for all the major sports. Now I can barely remember who made it to the NBA championship last year. I still get excited during football season, but it's more for getting shitfaced at the bar and trying to take random drunk girls back to my place. And only God knows when the last time I watched a 9-inning baseball game.

I'm trying to figure out what changed. I know this comes with age/responsibility, but I'm still only 25 so there's no kid/wife to absorb my time and nothing major changed with my career. Is there more to this? Maybe the fact that everyone has a smart phone, so you can look up any game score or videos of Robinson Cano picking his boogers in the dugout at the drop of a hat?
I don't think it's some general phenomenon going on. Some guys remain rabid sports fans for their entire lives (whether or not they do that for show is another question—I bet Skip Bayless doesn't even watch games anymore, he just likes being hardcore about his HOT SPROTS TAKES), some guys drift out of it. But either way, you really have to work hard to keep the fervor going.
As you get older, the number of champions and players and coaches and all that other sporty shit you have to remember grows and grows. When you were 18 or so, you probably witnessed and remembered about ten to twelve NBA Finals. Those 10 to 12 champions are easy to keep track of, and so they become indelible. When I was in college, I could probably go back every year to when I was 8 or so and tell you the name of every NBA Finals champ and loser, every Super Bowl winner and loser (and every conference champion participant), every World Series winner and loser, every Final Four team, and every Stanley Cup champion. NFL stuff aside, I probably can't do that anymore. The list has grown too long for my brain to accommodate. I need little reminders to jumpstart my brain. OH RIGHT, ILLINOIS MADE THE NCAA FINAL THAT ONE TIME. If I wanted to keep my sports brain limber now, I'd have to study, and I don't wanna do that.
A wife and kids make being a sports fan more difficult as well, but as you said, you haven't had to deal with that yet. Your smartphone, along with ESPN and the rest of BIG SPORTS-MEDIA-INDUSTRIAL COMPLEX has made it remarkably easy to remain a sports fan without watching any sports. You can see highlights. You can read along with Twitter commentary and create a strange image in your head of what the game looks like ("Some kid in the stands just picked his nose LULZ 4EVER"). You can watch video clips of the very BEST moments. And when you can do all that, you have a natural inclination to feel as if you don't need to watch the rest of the game. Again, this isn't true of everyone. Some guys like watching whole games. And I'm sure some guys like that so that they can say, "Did you even WATCH the game?" when they get into some stupid fucking bar argument.