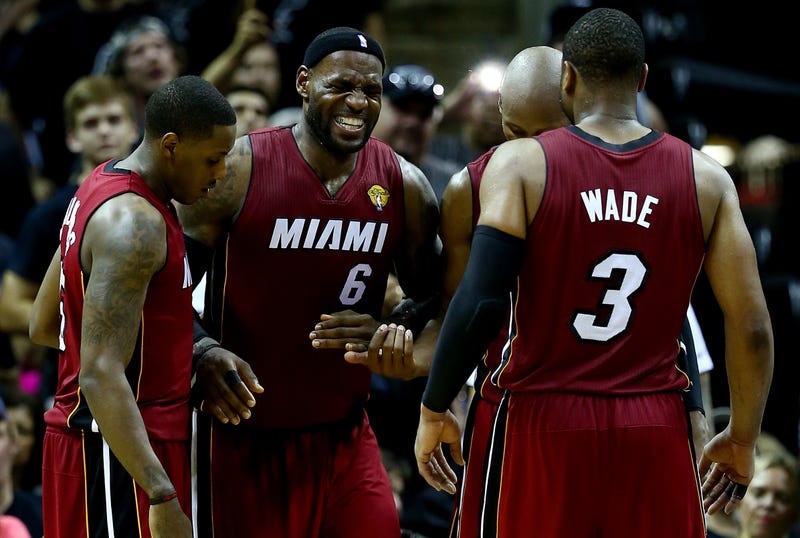 You won't believe this. LeBron James, a human being, suffered a cramp and had to leave Game 1 of the Finals. He clearly can't win when his team needs him, or something. Stupid involuntary muscle spasms.
The Spurs were up by two with four minutes remaining, but when James left, they broke open a commanding lead, finishing off a 36-point fourth quarter to take the first game of the Finals. But the main talking point was James on the bench, unable to do anything but watch. And man, people had some hot fuckin' takes about it:
The difference between the nba and NHL is so obvious when u have to watch Lebron get carried off because of a cramp

— Dylan Corcoran (@dcorcs) June 6, 2014
Just learned that Lebron James left an NBA finals game because of a leg cramp....yeah I'll stick to NHL playoffs from now on #noheart

— Connor O'Brien (@_ConnorOBrien) June 6, 2014
Lebron James doesnt cramp up all season then finals come and he cramps. Suck it up man. Exactly why NHL is better

— John Nauman (@Steelertroyfan) June 6, 2014
Lebron gets a leg cramp, gets carried off the court. Boston Bruin brakes his leg, finishes his shift on it..suck it up pussy your an athlete

— Stitch (@Potoniec9) June 6, 2014
literally all Lebron has to do is drink water to get rid of the cramp in 2 minutes but he's too busy crying

— Dion French (@dionfrench) June 6, 2014
Ps. I hope MJ was watching. #midol

— Michelle Beadle (@MichelleDBeadle) June 6, 2014
I don't want to hear any excuses about LeBron cramping. Both teams played in same heat. Nobody kept LeBron from drinking more water.

— Skip Bayless (@RealSkipBayless) June 6, 2014
Bosh to LeBron in that TO: "Cramps again? I brought some vagisil, should clear that right up"

— Not Bill Walton (@NotBillWalton) June 6, 2014
Ladies and gentleman, the 'greatest' ever: smh: AC breaks & you quit on your teammates pic.twitter.com/6rIoQHRtvc

— jason (@Jason) June 6, 2014
Even Jonathan Martin took a shot at LeBron. Good take, Jonathan.
Lebron haters goin ham right now lol

— JM (@J_Martin71) June 6, 2014
With that said... C'mon bruh. Drink a Gatorade & get out there

— JM (@J_Martin71) June 6, 2014
Cramps are usually caused by fatigue or exhaustion, and a study has shown that dehydration does not cause cramps, but sure, LeBron didn't drink enough Gatorade. Michael Jordan would have taken Gatorade through an IV if it meant he could get back in the game. Rich Peverley was once stranded in a desert for two weeks with no food or water, found his way home, and notched two assists in a game the next day.
Let's play Game 2 tomorrow so we don't have to hear about LeBron's inability to get over an involuntary cramp for three more days.