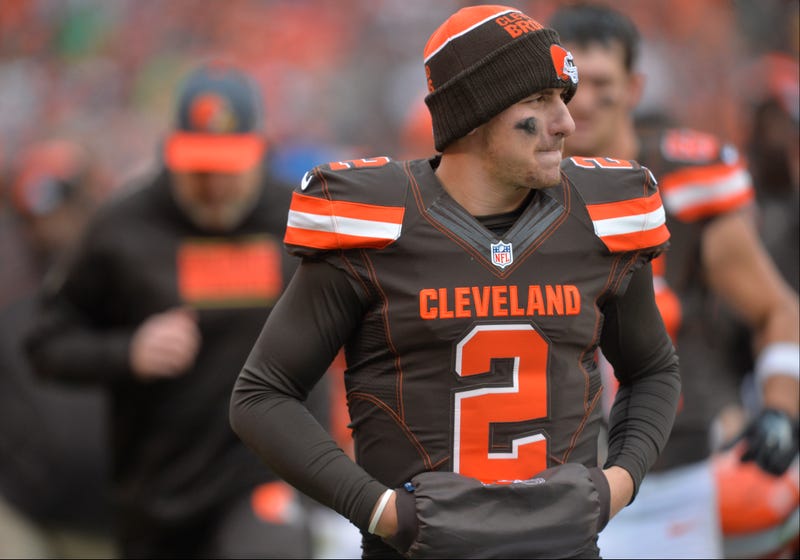 Johnny Manziel will get the start for Cleveland against the 49ers on Sunday, and the job is his for the remainder of the season if he can hang on to it. Of course, that's what we thought three weeks ago, before some bye-week partying put him back on the bench.
Head coach Mike Pettine said today the team didn't realize just how much Manziel's drinking would affect the Browns when they made the call to draft him.
"You see the reputation, what was out there," he said of pre-draft analysis. "I don't think we anticipated that his problems, his issues, how deep-rooted they were, the extent of it."
Everyone wants to dance around what those problems are—Pettine can't even bring himself to say "alcohol" or "drinking"—because alcoholism is a medical diagnosis and one that Manziel hasn't publicly acknowledged. But that's what we're all talking about here. He's gone to counseling for alcohol and anger issues (and did so before he went pro). He's gone to rehab. His father says he uses alcohol to deal with stress. He lied about his drinking, and told his friends to lie about it. He's let drinking interfere with his work. These are signs of alcohol dependence.
Now, it can be tough to tell the difference between a budding alcoholic and a hard-partying college student. (And that's if you don't consider college binge drinking a form of functional alcoholism in itself.) But the reason those in and around sports have tiptoed around putting a label on Manziel's issues is because most of society still considers alcoholism a failing of both morals and willpower, even if, intellectually, we know it's an addiction and formally a mental health disorder.