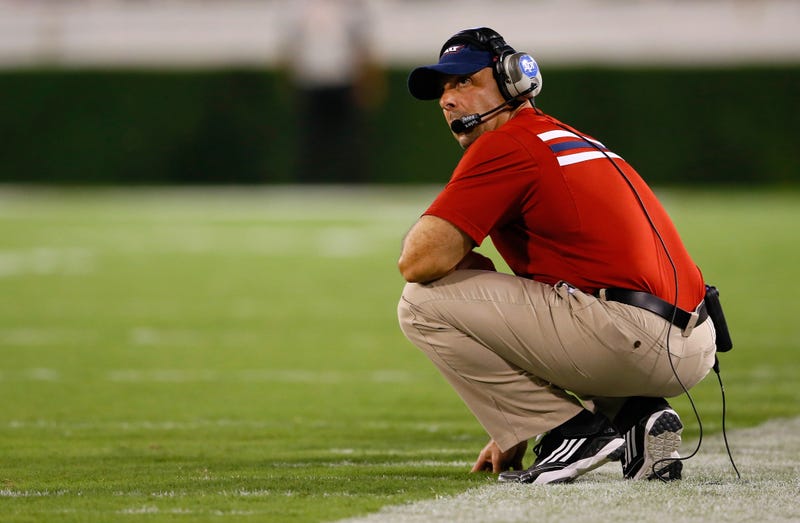 Update, 4:15 p.m.: FAU head coach Carl Pelini's resignation after one-and-a-half seasons was due to his use of "illegal drugs," confirmed AD Patrick Chun.
"It is a heartbreaking day for us all," Chun said at a press conference this afternoon, announcing the resignations of Pelini and defensive coordinator Pete Rekstis. OC Brian Wright will take over as interim coach.
A brief statement from Pelini was read at the presser: "I apologize for exercising poor judgement."
Chun went into a bit of detail on how this came about. Two people came forward about the incident, Chun consulted the university's general counsel, then confronted Pelini and Rekstis. They admitted the drug use, Chun said, then immediately offered to resign. But, hey, this is kind of weird:
Pelini and Rekstis were taken away from the FAU football offices by police. No arrests were made.

— Dieter Kurtenbach (@dkurtenbach) October 30, 2013
Below is our story from before Chun's press conference.
---
Earlier today, Florida Atlantic head coach Carl Pelini abruptly resigned, along with an assistant. Pelini's been a lightning rod for bizarre rumors throughout his career, but this one has everybody scratching their heads.
First, reports of police activity at the football facility:
Heard same thing. Not confirmed with Boca or FAUPD RT @coachingsearch: I'm told cops were at the FAU facility this morning. Not a good sign.

— Dieter Kurtenbach (@dkurtenbach) October 30, 2013
Then, what sounds like a total lockdown in the athletics office:
Very bizarre situation w #FAU. It's like the whole athletic dept has shut off its phone system in wake of Pelini mess.

— Bruce Feldman (@BFeldmanCBS) October 30, 2013
And then, just a few minutes ago, ESPN's Brett McMurphy had the first report of what might be behind Pelini's resignation, and it truly does not make a lot of sense.
Source told @ESPN Carl Pelini & DC Pete Rekstis resign at FAU. They attended recent social event where pot was used & agreed to resign

— Brett McMurphy (@McMurphyESPN) October 30, 2013
FAU will be holding a press conference in a few minutes, one which will not be attended by Pelini. We'll update as we learn more.