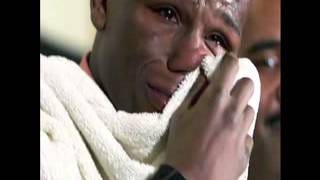 The first words out of 50 Cent's mouth on Animal Ambition, his first new album in five years, are "I woke up this morning, this is insane / Rich as a motherfucker and ain't much changed / Open my eyes, no surprise, I'm with a different bitch / Different day, different ass, different tits." The misogyny might sting,…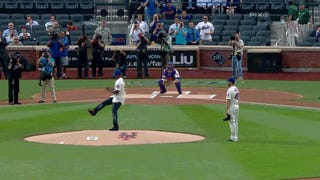 Remember when 50 Cent unleashed this atrocity of a ceremonial first pitch at Citi Field? He finally got around to explaining himself during a Reddit AMA he did today.
We thought we were done with 50 Cent's shitty first pitch, but we found another way to appreciate it. Enjoy these three photos that tell the tale of Fitty's pitch without actually showing the pitch. Think of it as a short play.
In a sports moment rivaled only by Joe Namath's come-ons to Suzy Kolber, rapper 50 Cent—inexplicably making the infield rounds at the Daytona 500—took Fox's Erin Andrews to the Candy Shop of love, though it appears EA wasn't digging it so much. Before the race even started, we've had a massive wreck. [Fox]
As ESPN notes, Floyd Mayweather and 50 Cent had a business deal in place-and a burgeoning friendship-not too long ago:
Mr. Cent went from a jacked 214 lbs. to 160 in nine weeks to play a cancer-stricken football player in "Things Fall Apart." It does not mention if he drank a fuckload of green tea. (H/T Gillin.) [ThisIs50]
What sounded like one of the most bizarre fights since Axl Rose attacked karate-chopping fashion mogul Tommy Hilfiger, longtime NBA announcer Marv Albert told the Dan Patrick show that he "never crossed paths" with angry rapper 50 Cent. [DPShow]
Marv Albert appeared on Wednesday's ¡Jimmy Kimmel Live! So did 50 Cent. This encounter could end in only one way: with fisticuffs.