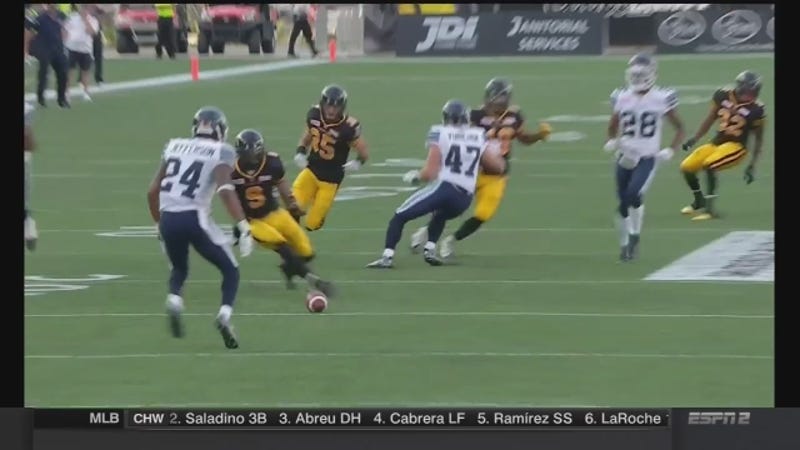 Canada's been leaving us some crappy gifts lately, but here's something from tonight's Toronto-Hamilton game that might perk your ears up: an onside punt touchdown, unique to the Canadian game and something we strongly encourage Roger Goodell to unilaterally write into American Football's rules.
It's always big news in these parts when a Fat Guy scores a touchdown, and it happened tonight in the CFL as Ottawa defensive lineman Zack Evans came away with a ball out of Edmonton's QB Matt Nichols's hand and took it 65 yards to the maison. It's not much consolation for the Redblacks, who are getting slaughtered.…
Toronto took care of Edmonton easily today to march one step closer to the Grey Cup in the CFL playoffs, but the season-ending insult to the Big E was minor compared to the injury felt by Eskimos quarterback Matt Nichols, who was forced out of the game in the third quarter after suffering a grotesque leg injury. (To…
When NBC announced it would be rebranding Versus as the NBC Sports Network, some people thought it might be able to rival ESPN as the nation's premier 24-hour sports network. Well, so much for that. Aside from the NHL, NBCSN doesn't have broadcast rights for any major sports. That's about to change, though, because …
Nine University of Waterloo football players are suspected of possible steroid use, so the team's entire season has been canceled. (There may have been a smidgen of drug trafficking, too.) That's Canada, for you. Always so....reasonable. [OttawaCitizen]
The Saskatchewan Roughriders are not sticking the Grey Cup anywhere after last night's last-second defeat in the CFL championship. It's going to be a long winter up there.
Canadians have a sordid reputation for being exceedingly polite, but they want to remind everyone that they can hurt your feelings with a cutting barb or scathing observation too. Of course, even Canucks who are on the other end of those vicious attacks can fight back like a Momma Palin bear on her hind legs. And you…
In my continuing quest to find even a small amount of football to inject into my life in the NFL offseason, I bring you this reader tip: Former Heisman Trophy winner Eric Crouch has found a home with the Toronto Argonauts. He joins all-time great (actually, I don't know how great they were in Toronto) Argo QBs Doug…