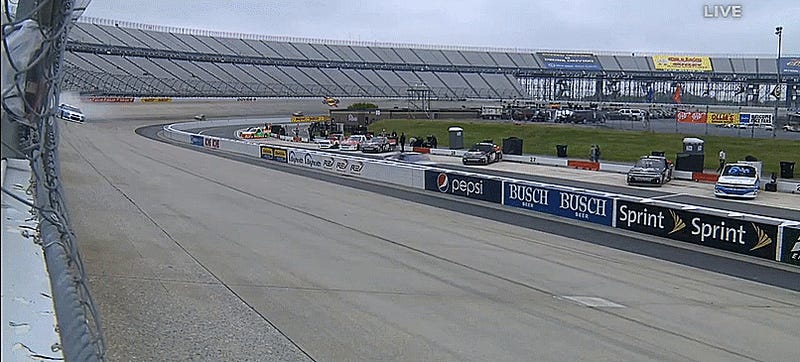 A gear failed on Danica Patrick's Stewart-Haas Racing Chevrolet during NASCAR Sprint Cup practice at Dover International Speedway today, sending driver Jamie McMurray and Patrick's team owner Tony Stewart into an unprotected hard wall. That's worrying for Stewart, who is still recovering from a back injury.

If you ever want to feel as if you've wasted away your sad, underachieving life, take a look at Chase Elliott, the pole sitter for this weekend's GEICO 500 at Talladega Superspeedway. The 20 year old gets to wave that underage flag high for winning pole on his first trip to Talladega in a Sprint Cup Series car.

Good news, Smoke fans! Tony Stewart will return to racing this weekend, and is even eligible for NASCAR's playoff-style championship, the Chase for the Sprint Cup. Bad news, everyone: he was also just fined $35,000 for calling out NASCAR on something he should be able to voice concerns on: safety.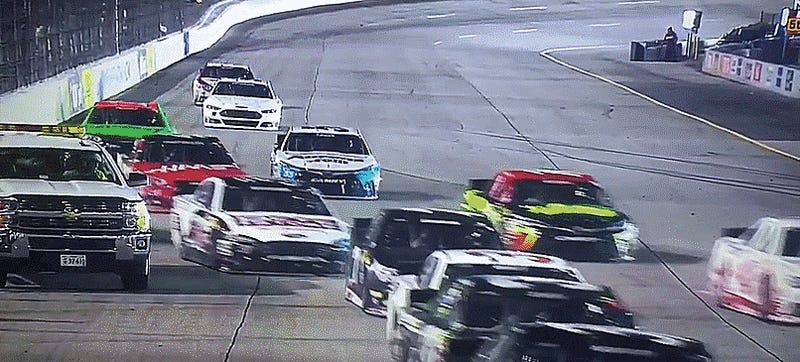 I'm not sure there's much to say about hitting a parked truck under yellow, so here's a Days of Thunder reference. Needless to say, NASCAR Sprint Cup racer Michael McDowell has achieved the wrong kind of perfection. Oops.
Kyle Busch found one of the remaining hard barriers on a NASCAR track that isn't covered by an impact absorbing SAFER barrier during today's Xfinity Series race at Daytona. Busch hit the concrete wall inside Turn 1, suffering a right lower leg compound fracture and left mid-foot fracture from the impact.
This is not mere conspiracy theory, not just bitter-but-unfounded suspicions from Ryan Newman and Jeff Gordon fans angry that they just missed out on a spot in NASCAR's Chase for the Sprint Cup playoff. This is a thing that happened clear as day—a driver deliberately spun out to screw them over and give his teammate…
The cable, which belonged to FOX, snapped and struck several cars at lap 124 of the Coca-Cola 600 at Charlotte Motor Speedway. Kyle Busch was in the lead, and presumably driving upwards of 200 miles an hour when the cable snapped and struck his car and others', causing the race to be red-flagged.
Brad Keselowski won the Sprint Cup last night, which is a NASCAR thing, I think. After winning the cup he went on SportsCenter to give a post-race interview, at which point he transformed into your semi-drunk friend who always corners you at the bar and insists on on the two of you having a "real ass" conversation…