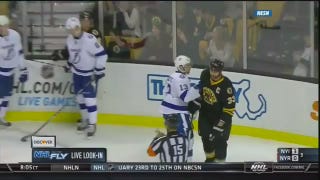 I went to go look up Cedric Paquette's height and weight, figuring a "Cedric Paquette is tiny. Zdeno Chara is 6'9", 255 pounds. The result when they fought was predictable." lede would be pretty good. Except I learned from Hockey Reference that Cedric Paquette is actually 6'1", 198 pounds: Zdeno Chara is just that…
At 6'9", Slovak defenseman Zdeno Chara is undoubtedly the tallest Olympian at Sochi, and the most likely to struggle with the spartan living arrangements. But worry not. Organizers wheeled in what's described as an "extended bed," and appears to be an ottoman.
At last weekend's NHL All-Star gala, Zdeno Chara of the Boston Bruins won his fourth consecutive hardest shot competition. He did so by hitting 105.9 mph. The Kontinental Hockey League held a similar affair last evening in St. Petersburg, Russia.