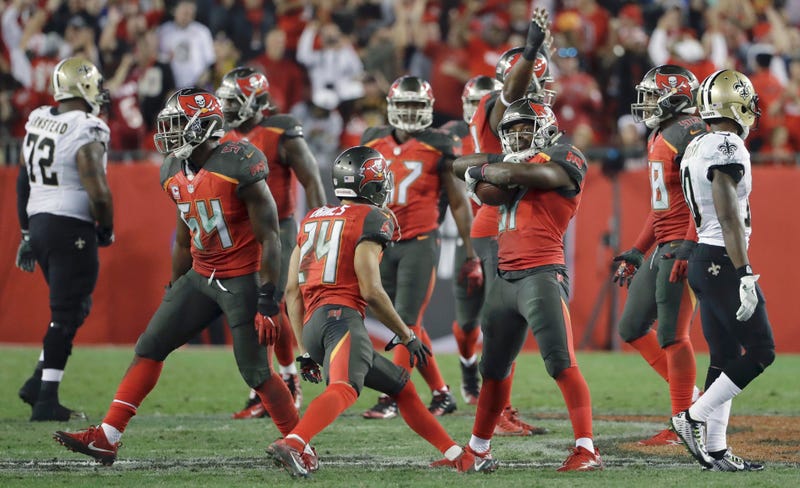 Wait. How are the Buccaneers 8-5 and currently in line for the NFC's second wild-card spot? Weren't they once 1-3 and giving up more points than any team in the NFL? Was that really this season? And wasn't it just six weeks ago that Matt Ryan and the Falcons did this to the Bucs in prime time, which happened a mere four days after the Raiders rolled up a league-high 626 total yards against them? Are we really talking about the same Tampa Bay Buccaneers here?

Yup. Totally are. The Bucs haven't lost since the Falcons pooped on them back in Week 9, and their defense—the same defense that somehow allowed the sorry-ass Rams to hang 37 on them in Week 3—is a huge reason why.
As the Wall Street Journal points out, the in-season turnaround by Tampa Bay's defense is on a historic pace: With three games remaining, the Bucs' points per game allowed has improved from 29.0 in Games 1-8 to 12.8 in Games 9-13, a decrease of 16.2. The NFL record for a first-half to second-half swing in points per game allowed is 15.6, and no team since 1988 has has made an improvement of better than 14.5. The Bucs still have to play the Cowboys, Saints, and Panthers, but they've shown their bona fides against some pretty good teams and quarterbacks in recent weeks. They beat the Chiefs in Kansas City, and they most recently defeated Russell Wilson, Philip Rivers, and Drew Brees, holding that trio to just 4.8 yards per pass and a combined passer rating of 53.5. It's been a while—the Bucs haven't had a winning season since 2010, and haven't made the playoffs since '07—but they finally appear to be no joke.
The reason for the Bucs' sudden turn of success? Defensive coordinator Mike Smith—who as a head coach had the Falcons on the brink of the Super Bowl just four years ago—has scaled back the playbook. "Ever since the little mini-bye, the Thursday night game [against the Falcons], Smitty and the defensive coaches cut it back a little bit, simplified things, maybe doing a little bit less," head coach Dirk Koetter said after beating the Seahawks in Week 12. "[It] let these guys play faster and they've responded."
What the Bucs have started doing is creating turnovers. They're a plus-6 in turnover differential on the season, but they were minus-9 after their 1-3 start. They're now tied for the league lead with 25 takeaways, but 23 of those have come in the last nine games, including 14 during their current five-game winning streak, when they haven't had a game with fewer than two. It's not all the luck of recovering fumbles, either—10 of the Bucs' 14 takeaways during their winning streak have been interceptions, with seven coming in the last three games against Wilson, Rivers, and Brees.
What the Bucs have done especially well is bring pressure with their front four, which has had the effect of enabling their coverage, as it often does. (See also: the Giants.) Per Pro Football Focus, Robert Ayers—now age 31—ranks fourth in the league among 4-3 defensive ends in pass-rush productivity, a metric that adds up sacks, hits, and hurries (with greater weight given to sacks) per pass-rushing snap. And veteran mainstay Gerald McCoy's PRP ranks sixth among 4-3 defensive tackles.