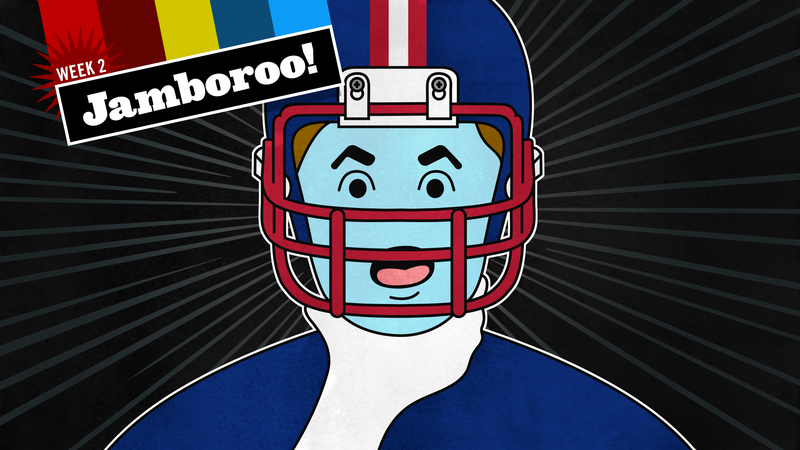 Drew Magary's Thursday Afternoon NFL Dick Joke Jamboroo runs every Thursday during the NFL season. Email Drew here. Buy his book here.

I watched the Chargers blow a lead last week because blowing leads is what the Chargers do best. In fact, Marmalard and his crew have blown a lead of 20 or more points three times in the past four years. No lead is secure in their hands, especially any lead involving an L.A. stadium vote. And it got me wondering if they were the chokingest team in football, because it sure seems like it.
Well, my friends, that is a theory that only GLORY BOY stats can prove. So I went deep into the bowels of the stat underground and compiled a list of teams that have blown leads of 17 points or more at any point in a game since 2000, playoffs included. I'm setting 17 points as a "comfortable" lead because it's the minimum three-score lead and because, as you will see, it's pretty rare to give such a lead away. And what I found will shock you to your very core. The Chargers are not the worst. In fact, the Chargers have come back from a 17+ point deficit more often than they've given one away. Here now is your list of greatest modern choking teams of the 21st century:
SIX CHOKES: Texans
FIVE: Falcons, Chiefs, Niners
FOUR: Dolphins, Giants, Chargers, Packers, Lions
THREE: Pats, Jags, Titans, Rams, Broncos, Cowboys, Seahawks, Bucs
TWO: Jets, Bills, Colts, Eagles, Bengals, Browns, Bears, Panthers, Cards, Vikings, Saints, Raiders
ONE: Ravens, Skins
ZERO: Steelers
That's right, Houston. It's you. CHOKE CITY RIDES AGAIN. This is what you deserve for naming yourselves the Texans. Also, look at the perfect little Steelers, never blowing a huge lead. God, I hate them and their breathtaking consistency.
Obviously, there are issues with this list, namely that my criteria are totally arbitrary, and every team is comfortably near the median of three blown leads. Also, the reason a team like Green Bay is so high is because Green Bay has the type of offense that can GET you a 17+ point lead. If you have a kickass QB and you can score a lot of points, you're occasionally gonna blow a lead. It's almost a badge of honor. Consistently awful teams like Cleveland and Buffalo don't even have the firepower to break your heart.
But enough about variables. As far as I'm concerned, this list is ironclad. The Chargers may stage a memorable crater job every year, but the Texans blow big leads with a kind of rote consistency that is easily forgotten. That's what happens when you play in the same division as Peyton Manning and Andrew Luck for the entirety of your existence. Three of the Texans' six collapses came against the Colts. If I were a Houston fan, I'd hate the Colts even more than the corpse of Bud Adams.
In fact, I went ahead and looked up the reverse stats. Look which team has, far and away, the most 17+ point comebacks:
NINE: Colts
FIVE: Lions, Chargers (!)
FOUR: Bills, Chiefs, Saints, Patriots, Ravens, Bucs
THREE: Bears, Browns, Broncos, Packers, Texans, Eagles, Rams, Seahawks, Niners
TWO: Panthers, Bengals, Dolphins, Giants, Jets, Titans, Steelers, Raiders, Skins
ONE: Cowboys, Jaguars, Vikings
ZERO: Falcons, Cardinals
Holy shit, the Colts nearly double the next teams on the list. If you play those fat humps and get a lead, make sure they're dead and buried. Also, you will note that the Falcons were second on the choke list but have no grand comebacks to call their own. (If you mention the 1998 NFC title game, I kick you in the nuts). They're pathetic. I say we burn their new stadium to the ground before it ever has a chance to open.
The Games
All games in the Jamboroo are evaluated for sheer watchability on a scale of 1 to 5 Throwgasms.
Five Throwgasms
Bucs at Cardinals: I know he was playing against the Falcons, who are (as noted above) terrible. But it's clear that Jameis Winston has already arrived, which is gonna make this whole year so, so uncomfortable. He's gonna throw for 35 touchdowns and I'm gonna watch Tafoya and Tracy Wolfson give him at least a dozen "looking up fawningly" sideline interviews. The tweets are already weird:
Just a humble kid, gang. Only cares 'bout winnin' footbaw games.
Saints at Giants: This is a rematch of last year's matchup in which both teams pretended they were in the Big 12 and racked up a thousand yards between them. Judging by the Saints defense last week, I'm gonna go ahead and pick up every Giant in Daily Fantasy. I'll even start Larry Donnell, which I will then quickly come to regret.
Packers at Vikings: New stadium night! Prepare yourself for a lot of talk about very large doors (made of real glass taken from Sam Bradford's tibia!) and space-age, bird-killing transparent paneling. Al is gonna gush, "We took a tour around here earlier this week and it is SOMETHING." That's what he's gonna say, verbatim. You can guarantee it. I bet the NFL even has a script ready for him.