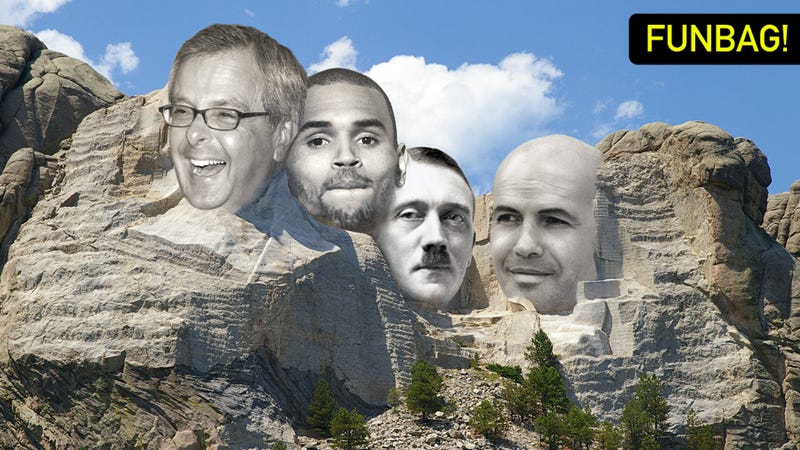 Time for your weekly edition of the Deadspin Funbag. Got something on your mind? Email the Funbag. Today, we're covering big dicks, broken jaws, uneaten cupcakes, and more.
Before we get to the Funbag, some notes of vital interest. If you're in New York tomorrow night, I'll be doing Scott Rogowsky's Running Late show over in Brooklyn. It's like a live talk show-type thing. You can buy tickets here. You get a free beer (not kidding) if you mention Deadspin at the door, plus $2 off your ticket if you enter the promo code MARTY online. Among the other guests tomorrow night will be human Straw-Ber-Rita Tucker Max, so that'll be interesting. I'm told the event space has a bar for afterward, which makes it one-stop shopping for us all.
And if you're in Boston on Thursday night, I'll be doing a reading and signing at the Harvard Coop at 7pm. FACKKKKK YOU. Drinks and Game 4 afterward at John Harvard's. Then, I'm back in DC on Saturday doing a reading at Politics & Prose at 6 p.m. Again, drinking afterward. Somewhere. Probably Comet or that other bar across the street. I dunno.
OK, with that out of the way, let's get to your letters:
Josh:
Who would you put on your Mount Rushmore of Most Punchable Faces? And can I cast all four of my votes for Florio?
First slot goes to Hitler automatically. He's a shoo-in, like the RSTLNE combination you get in the final round of "Wheel of Fortune." Somewhere out there, a person has already carved his face into a cliff for this very kind of anti-memorial. If Hitler were resurrected and a local entrepreneur offered the general public a chance to punch Hitler in the face for three dollars, the line for the Hitler booth would stretch around the globe six times. NO ONE DENIES THIS.
There are certain necessary elements for a punchable face, and Hitler has them all. You must be bratty. You must be a loudmouth, so that a punch to the face will silence your constant braying. You must have a damning personal history. And you must have a resting expression that, simply on its own, causes people to want to ball up their fists and throttle you right in your stupid fucking jaw. Hitler has all that going for him. His is the most punchable face in history. Him and Jesus. JUST KIDDING.
So, with those qualities in mind, let's chisel the rest of our cliff face:
• Hitler.
• Mike Lupica. Not only is he a loudmouth and a brat, but he has those glasses. You just know he paid $800 for those things. God, it would feel so good to drive my knuckles right through those glasses, to hear them go CRUNCH and feel the frames snap, watching with joy as the shards from the lenses (in my fantasy, they are not shatterproof lenses) pierce his eyeballs and cause them to leak fluid all over Bill Rhoden's lap. There are so many sports personalities you could put on this list (Christian Laettner, Bobby Heenan, Eli Manning), but Lupica tops them all.
• Chris Brown. I hate giving him the satisfaction of canonizing him on this mountain, but fuck him. He's a savage woman-beating troll who is BEGGING to be 25th Hour'ed. He's so punchable, he knocks Justin Bieber off the mountain, which is crazy because the whole world wants to beat some sense into Justin Bieber.
• Billy Zane. As nominated by Spencer Hall. It was between him and Ethan Hawke. "Not the better half (sneers)." FUCK YOU ASSHOLE PUNCH PUNCH PUNCH.
Devon:
How many people, in the history of human existence, have joined the Mile Low club? I guess we're limited to people in submarines, or deep underground in mines? Has to be lower than the number of people in the Mile High club, right?
According to Wikipedia, modern submarines have a crush depth (crush depth means your sub goes too low and, you know, gets crushed) of 2,400 feet at best. That's not even half a mile. So whatever smoking hot navy buttsecks is going on aboard the USS Freelove, it's not happening a mile below. Some submersibles can dive to much lower depths, so I suppose it's possible that James Cameron brought along a hooker in his capsule to give him handies at the bottom of the Mariana Trench.
That's probably a better bet than land-based holes. "Did you know the hole's natural enemy is the pile?" The deepest man-made hole in the world is the Kola Superdeep Borehole, which goes nearly eight miles deep. But there's not a boudoir at the bottom of that hole. There is just Satan attaching a boot to a fishing hook and yanking on the line to fuck with Russian scientists. A mile below the surface of the Earth is likely to be a hellish place—hot and lacking in oxygen and all that. No fallout shelter is buried that deep. In all likelihood, the number of people who have boned that far beneath the surface of the Earth can be counted on one hand. Why, we could build a Mount Rushmore of them!
Tom:
For 6 million dollars (tax-free) would you agree to let Shaq anally fist you once a day every day for a full calendar year? You get Christmas and your birthday off.
Every day? Not a chance, especially if he has the rings on. Even ONCE a year would be a stretch, and I mean that literally.
Mike:
If one athlete were to die in a plane or car crash, which athlete would create the most stir/news about his death? ESPN would practically shut down their headquarters if Tebow died, so I'm putting my money on him.
At this very moment, it would be LeBron, because LeBron is not only one of the biggest stars in all of sport, but because his sport's showcase event is going on right now. If LeBron were to crash his Ferrari (right before he hits the other car, I bet LeBron makes the same face he makes when he gets called for a foul) and die TODAY, right before Game 3, that would cause a lot more dilemmas (and therefore, discussion points) than if he died during the offseason. Do they play the game tonight? If they put it off a day, what do they do about Game 4? If the Spurs win the title after that, do we put a little asterisk by the title in the shape of a Ferrari being T-boned? If he died in a plane crash, maybe the rest of the Heat would be completely freaked out by air travel and not want to fly back home. Maybe Don McLean would write an ENDLESS song about LeBron's death called "The Day The Basketball Died." Skip Bayless would orgasm on the air. Loudly. It would be mass chaos.