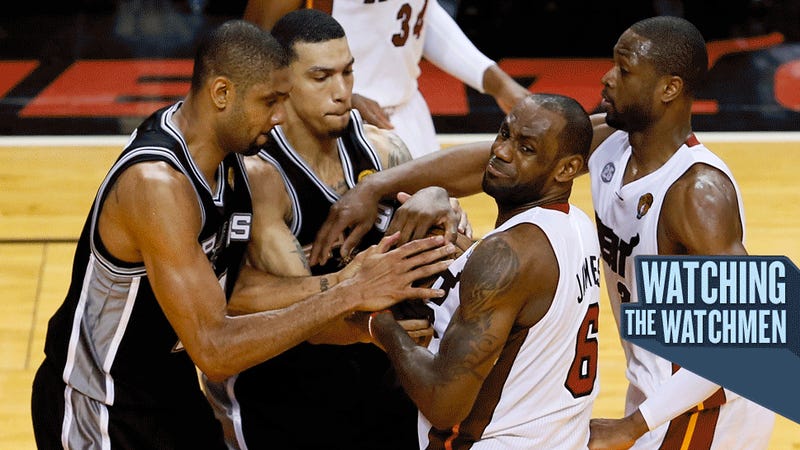 As he has done for us in years past, Tim Donaghy, the owner and operator of RefPicks.comand a former NBA referee who spent 11 months in prison for relaying inside information to gamblers, will review the performance of his former colleagues during the NBA Finals. Here's a quarter-by-quarter breakdown of Game 6, with accompanying video.
First Quarter
9:31: Poor call. There is very little contact on this drive to the basket, and it should have been let go.
7:42: Offensive foul on Wade—correct call. Wade goes into and through the set defender.
5:56: Offensive foul missed as Leonard hits Miller with his off arm in the mouth. Sometimes referees get blinded by highlight-reel play and fail to call an obvious foul. That's what happened in this instance, and the Spurs were given two points even though Leonard blatantly cleared miller out with his arm.
5:00: Travel missed as Neal shuffles his pivot foot before the dribble.
2:43: Bad no-call. James reaches in and smacks Duncan on the arm as he goes up for the shot. The only official who can see this is Crawford, who doesn't make the call from the trail position.
1:15: Out-of-bounds called missed. Ginobili hits the ball off Chalmers's knee and the ball is given back to Miami. This should have been San Antonio's ball.
Second Quarter
8:00: Wade out of control on this shot. The officials are correct in not bailing him out with a foul, but it's rather surprising to see a star player like Wade not get the call on a play like this when he's at home.
5:12: Leonard hand checks James with two hands, but no foul is called. This is a foul that is called most of the time, as it is very difficult for the offensive player to beat a defender if they are allowed to check the offensive player and stop his progress.
4:34: Bad no-call. This should be an offensive foul as James leads with his elbow.
3:32: Incorrect call. This is a clean block by the Birdman. He gets all ball up top, and his hand being on Duncan's waist doesn't really interfere with Duncan's shot at all.
Third Quarter
8:33: Correct call—Leonard tries to draw a charge, but he doesn't give Bosh space to land after the shot.
6:28: This should be a goaltend. Bosh goes up and through the rim to block this shot, causing contact with the net and rim. If a defender touches the net or the rim while the ball is in the cylinder, it should be an automatic goaltend. If Bosh hadn't shaken the rim, this shot might have fallen.
3:58: Battier pushes Duncan in the post without a foul being called. This is way too much contact to ignore.
1:49: James drives to the basket and is fouled by Diaw. This foul needs to be called and is ignored. It's shocking that James didn't get the call on this play. There was a lot of contact, and James is a superstar playing at home in a crucial playoff game. Very puzzling.
0:39: Allen steps out of bounds on this play, but no call is made.
Fourth Quarter
8:58: Chalmers is fouled on this drive to the basket by Ginobili, but no foul is called.
8:25: James is fouled by Duncan on this drive to the basket, but no foul is called. Again, it's very strange that James wasn't given free throws. These are the kinds of calls that he has grown accustomed to getting at home. I have no idea why the officials seemed so bent on letting guys get away with fouls on LeBron last night. Maybe they are still upset about those flopping comments, as they seemed to be in Game 2. Remember, that was also a Joey Crawford-officiated game.