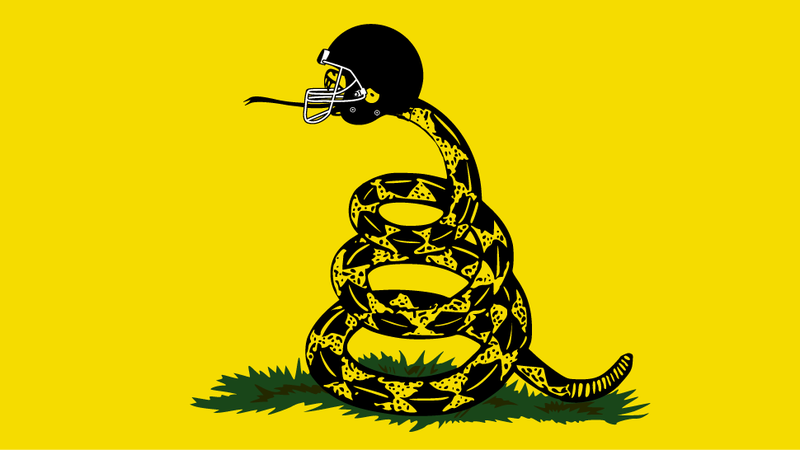 The first thing I saw was the abortion truck. I was walking toward the Omni Shoreham Hotel in downtown D.C.—site of the 2013 Values Voters Summit—and parked outside the hotel was a rickety truck that, from afar, looked like an untrustworthy kebab van. It was only until I got closer that I saw the slogans—"Abortion is SIN murder," "Homosexuality is SIN abomination," etc.—along with a photo of an aborted, dismembered fetus along the side panel. It was definitely not a kebab van.
I went into the hotel, grabbed my press credential, and strolled into one of the main exhibition halls, where you could buy "right wing jewelry" or talk with the folks at PFOX ("Parents and Friends of ExGays and Gays"). I walked by a man saying to another man, "They better hope the republic doesn't descend into chaos," which kind of made me feel like I was in the middle of a Star Wars movie. There was also a prayer room that had a NO MEDIA sign on the door.
The Values Voters Summit is one of many annual conservative conferences where right-wing superstars and their supporters can come together and discuss their vision for the country. If you're a rock-ribbed conservative, this kind of conference provides a safe haven for you—an event where you can be with your people and park your abortion truck outside the front door without feeling as if your values are under siege. One dude in the hotel bathroom felt so comfortable that he put both his arms up on the partitions dividing the urinals and let out an audible moan while pissing.
Ted Cruz was at this summit the day before, as were Rand Paul and Marco Rubio and pretty much every other right-wing luminary. But I wasn't here for Cruz, or for Paul, or any of the big-name folks. And I wasn't here to pray. I was here to see a man named Dan Flynn, a man who is unafraid to say that football is good for you in a world where such a statement—like many other "values" stances—is seemingly met with heavy doses of liberal hostility.
Flynn came to VVS to host a breakout session—one of many niche discussions that took place in smaller conference rooms separate from the big speaker venues—called "The War on Football," which shares a name with a book Flynn has written on the subject. I got to the conference room a bit early and sat in the back as an assortment of roughly 40 to 50 attendees walked in and took their seats. There were nice old ladies and frail old men and a handful of young Republicans in awkward suits. Flynn himself was already in the room, preparing his speech and dressed almost exactly like Vince Lombardi: white, short-sleeved, button-down shirt; close-cropped hair; black horn-rimmed glasses, etc.
I introduced myself and he happily gave me a little preview of his upcoming talking points: that football is safer than ever, that we are "more ignorant about head injuries now than we are enlightened," and that the War on Football is a byproduct of the overall softening of American society. Flynn never played football in college or the pros, and he has never coached it, either. He has no medical credentials to speak of. But he did play the game in high school, and he is unwavering in his belief that the game causes far more good than harm.
The clock struck 3:15 and Flynn was formally introduced to polite applause. He began with a story about Ronald Reagan (the guy knows his audience) and then got into the meat of his argument. "I don't have a high tolerance level for BS," Flynn told the crowd. What constitutes BS for Flynn? Here's a quick rundown:
The idea that concussions cause CTE. "There is no evidence that concussions cause CTE," Flynn told the crowd. The National Institutes of Health back him up on this, and a recent consensus statement, authored by a number of scientists who have helped pushed head injuries into the national consciousness, declared: "A cause and effect relationship has not as yet been demonstrated between CTE and concussions or exposure to contact sports.")
The idea that there is an agreed-upon medical definition for CTE.
League of Denial. "You go 72 minutes into League of Denial before you hear a single voice critical of the overall thesis."
The Boston University concussion study. Flynn believes that researchers at BU have exercised "selective bias" in choosing which brains to study for CTE. "They're going after brains that they believed to have been damaged [Ed note: Flynn cited Dave Duerson as an example], and LO AND BEHOLD! Those players have brain damage! They haven't ever done a randomized study on CTE."
The idea that football is more dangerous than ever. Flynn cited a statistic showing that 36 football players died of collision-related injuries in 1963, compared to just two in the past year, with changes in equipment and rules helping to make the game safer. "We're not talking about players getting killed anymore. I don't wanna downplay the risk of concussions, but let's admit that a concussion is a much more favorable outcome than death."
The idea that football players die young. Flynn cited a CDC study of 3,500 former NFL players (from 1959 to 1988) that says that NFL players live longer than the average non-players, and are less likely to die of cancer and/or heart disease (which makes sense, Flynn argues, when you consider that NFL players tend to be, you know, world-class athletes).
The idea the football players are more likely to commit suicide. Flynn again cited the CDC study, which noted that NFL players have a lower suicide rate than their civilian counterparts. "We don't hear about waitresses or accountants committing suicide," he told the crowd.
The player lawsuit against the NFL. When Flynn noted that 10 percent of the players named in the lawsuit had never played a down in the NFL, there were angry gasps from the crowd. "You got brain damage from that cup of coffee in the NFL?" he asked. "I'm not buying it!" That 10 percent figure—actually 9.4 percent, or 387 out of over 4,100 plaintiffs—includes former practice squad players like Mitch White, who, according to NFL.com, "suffered concussions on consecutive plays while assigned to NFL Europe and is now confined to a dark bedroom five days a week." Still, the implication from Flynn was clear: The lawsuit represented a money grab for many former players ("This is litigation lottery stuff"), and that there should be an extra bit of shame in asking for lawsuit money when you weren't man enough to play an NFL down.
The idea that football is a guaranteed ticket to dementia. Flynn referenced this Mayo Clinic study of mid-century high school football players in Rochester, Minnesota that found no increase in ALS or Parkinson's Disease (though, by Flynn's reasoning, they were presumably much more vulnerable to dying on the field). Flynn did acknowledge another study that found that NFL players were four times more likely to develop ALS than the general population, but he argued that a study of NFL players shouldn't be applied to youth leagues. "It's very dangerous to project what happens with a Junior Seau onto someone playing high school football, because there's no scientific evidence that you're gonna have cognitive issues if you're an average high school football player."
There were occasional jokes to placate the crowd ("To me, this put the BS into PBS"). But nothing about Flynn's presentation was totally unreasonable on its face—good scientists have said many of the same things. And he didn't let the NFL off the hook, either, saying at one point, "The NFL has done a bad job taking care of its players." Mostly, he presented himself as someone who loves football and only wants the hysteria to die down so that all the proper studies can be done in an intellectual climate more conducive to sober-minded scientific inquiry, and so that people can see all the GOOD that the game produces.