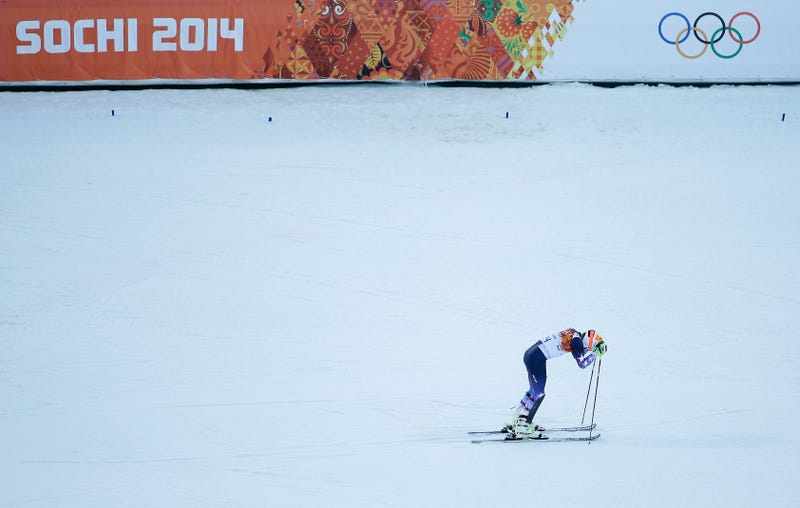 In a way, it's fitting for Bode Miller's Olympic career to end like this, if this is indeed the end. Having re-injured his knee in Wednesday's giant slalom, in which he finished 20th, the 36-year-old absented himself from the last ski race of the Sochi Olympics, today's slalom. He'd spent his career sliding and crashing out of individual races, and his results list has more Did Not Finishes on it than that of perhaps any other top racer in the sport. Withdrawing from today's race was an inadvertent homage. Sochi Olympics: DNF.
In fact, take a good look at that results list—at the way Bode slaloms between good results and bad ones. Without knowing much about the sport, you can almost visualize the style of a skier like that. We're talking about a guy who, in any given race, was as likely to win a medal as he was to slide out of a course or crash. No, really. In 19 Olympic races, starting with Nagano in 1998, he medaled six times and DNF'd six times. He was also disqualified from a seventh race, the combined in the 2006 Turin Games; in classic Bode style, he was in first place after the downhill, but hooked a ski in the slalom.
His erratic results have generally stemmed from two things. First was his super-aggressive, attack-dog style; this was never a guy who held anything back. Coaches would grouch over the way he'd insist on going all-out, risking everything, on second runs—even if he'd already established a podium-clinching lead in the first run. Where other racers might scrub a little speed on a turn to make sure they stay upright and in the game, he'd lean on the pedal instead. And where other skiers might take a more conservative line, making sure they have some room between their skis and the actual gate, he'd squeeze in so close to the gate that he'd clip it with his ski, or even take it out.