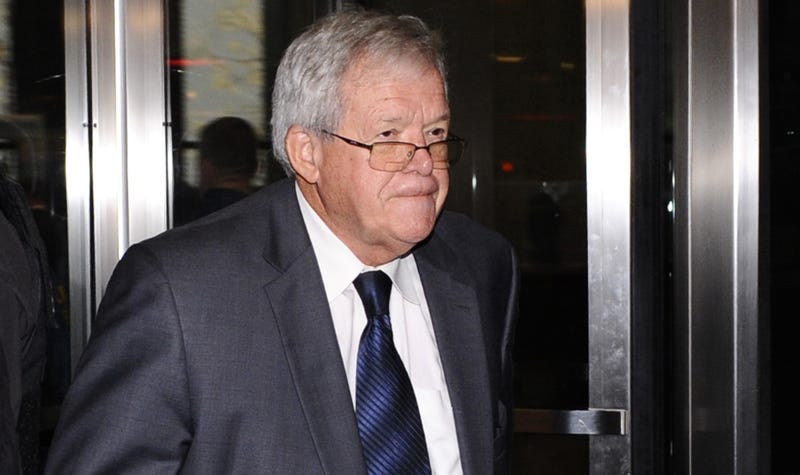 Former Speaker of the House Dennis Hastert pleaded guilty last October to one count of illegally structuring bank withdrawals, and will be sentenced to up to five years in prison by a federal judge later this week. But behind this technical-sounding crime is something truly horrific: According to the feds, the structured bank withdrawals were payoffs to students Hastert molested while coaching wrestling decades ago. He isn't being prosecuted for those crimes because the statue of limitations in Illinois forbids it.

Who would support somebody who paid out $3.5 million over multiple decades to keep alleged victims of sexual abuse quiet? Lots of people, it turns out. Hastert's defense team says they received 60 letters of support, and not just from ghouls like former House Majority Leader Tom DeLay and former CIA director Porter Goss. Hastert also received support from the Illinois wrestling community, including University of Chicago head wrestling coach Leo Kocher; David Kapple, a wrestler he coached 45 years ago; and Theodore DeRousse Jr., the former United States Wrestling Federation's Illinois chair.
Before Hastert was chosen to replace a terminally ill member of the Illinois House of Representatives in 1981, he taught social studies at Yorkville High School, about 50 miles west of Chicago, for 16 years, and coached the football and wrestling teams. His career as a coach—during which he allegedly molested wrestlers—was a crucial part of how he presented himself to the world during his rise to power, and the wrestling world cooperated. He has been feted by the National Wrestling Hall of Fame not once, not twice, but three times. He was given the Order of Merit award in 1995, Outstanding American in 2000, and Lifetime Service to Wrestling (Illinois) in 2003.
The letters of support from Kocher, Kapple, and DeRousse were written earlier this year, before the federal government revealed the highly credible accusations of molestation against Hastert, but that's hardly an excuse. Hastert's attorneys argued to keep the 60 letters of support from becoming public, but once it became clear the judge would release them, 20 people withdrew their letters. They no longer wanted to support Hastert once they learned about the accusations of molestation (or, perhaps, simply didn't want to be known as supporters of an accused child molester). Forty people did. These three were among them.
It's worth noting that while the feds didn't reveal molestation-related allegations against Hastert until after the letters were written, they hardly came out of nowhere. Accusations had already been floating around Illinois politics, wrestling, and media circles for years, and last summer the family of one of the alleged victims came forward, and gave a chilling account to Good Morning America: