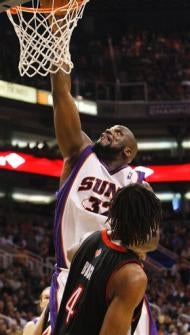 Shaq lights up the Raptors for 45 points and 11 boards last night and is thoroughly convinced that he could be that productive every night if gets "touches like that." Chris Bosh has another theory.
Via Ya-to-the-Hoo!:
"He was just camping down in the lane," Bosh said Friday night, after O'Neal's biggest scoring night in six years led Phoenix to a 133-113 victory over the Raptors. "I mean, if they're not calling three seconds-I thought it was a rule, but I guess not."
Three. Three-and-half. Five. What's the difference? The real melodrama from this little war of words has yet to fully happen. As we all know, Shaq's Twittering habits are otherworldly and he has a very devoted 196,000+ following. Bosh is also a full-blown member of the Twitterati, but has a less devoted following, most likely due to his Toronto address and not openly inviting his followers to touch him at a mall.
But, what if Shaq retaliated to Bosh's diss by ordering his pro-active Twitter army to attack Bosh's feed with merciless vigor? We could have a Big Lead/Cowherd situation on our hands. Stay tuned.
Bosh Says O'Neal Cheated in 45-Point Night [Yahoo! Sports]