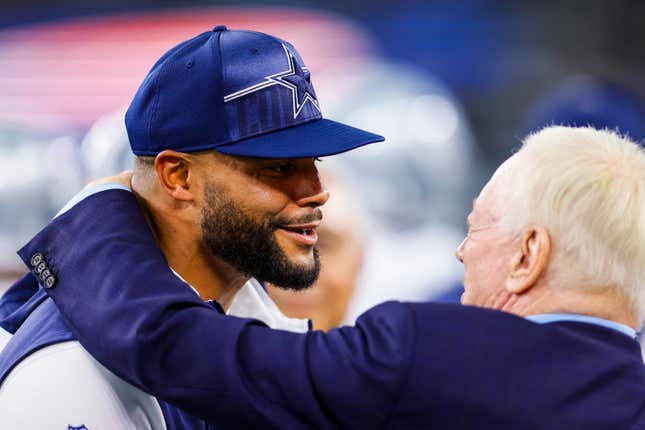 If you put a microphone in front of Jerry Jones for long enough and let him ramble, he'll usually deliver gold. Jones can't help himself whenever the cameras are on. He's got to give us something juicy to chew on. Once again, while speaking with the media following the Trey Lance trade, Jones found himself "unwittingly" throwing shade in Dak Prescott's direction.

Is Dan Snyder a human shield for Jerry Jones? | Conspiracy Thursday
Jones talks about targeting Philadelphia Eagles quarterback Jalen Hurts in the draft, had he fallen to Dallas in 2020. That wouldn't have been seen as a step toward replacing Prescott at the time, but based on where Hurts ranks among NFL QBs now, that opinion might be different. In many ways, it's like Dak constantly has to prove himself in the eyes of Jones.
When will Jones believe in Dak?
Prescott just can't get any respect when it comes to Jones. Although Jerry did pay him handsomely a couple of years ago. Jones seems to regret it to this day and even publicly said he overpaid upon finally giving in to Prescott's demands. What he said about wanting to draft Hurts isn't a huge deal, but it's probably not something you're starting QB wants to hear about on TV or social media.
While Lance isn't a threat to Prescott right now, the unexpected move by the Cowboys still made headlines. Dak is due for another extension already, and what happens during the '23 campaign will surely go a long way in determining his future with the team. If you asked Jones outright who he'd rather have right now, Prescott or Hurts, the former probably wouldn't be too happy with the answer. Jones' transparency regarding these matters can be a gift and a curse. A vote of confidence publicly for No. 4 would go a long way. Sometimes, you just wish Jerry would sit back and stay away from the cameras, but we know the likelihood of that happening is slim.