Our only returning nominee, the circumstances have certainly changed a little bit since Barbaro garnered only 31.1 percent of the vote in Hall of Fame balloting.
Since then, he not only was almost on the cover of Vanity Fair, taken the form of a Cheeto and, oh yeah, won Deadspin's 2006 Sportshuman Of The Year award. His qualifications would seem to be self-evident. But last year: 31.1 percent. Bruce Sutter never even made that upward leap. Of course, Bruce Sutter is still alive, and never saved America.
But is he a Hall of Famer? Seventy five percent is the threshold for induction. Vote below: Polls will be open until next Monday morning.
G/O Media may get a commission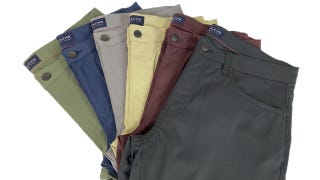 JACHS NY Fall Stretch Tech Pants
Gawker Media polls require Javascript; if you're viewing this in an RSS reader, click through to view in your Javascript-enabled web browser.