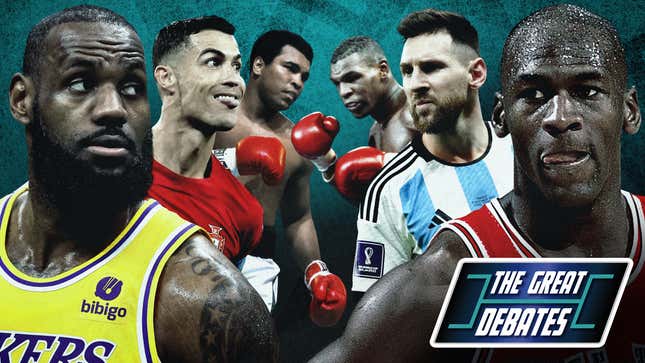 It's time to crown a champion — or at least pretend like we don't know who is going to win this tournament. Michael Jordan vs. LeBron James is the question of our times, like when West Coast vs. East Coast was the fulcrum point of the Golden Age of Hip-Hop. If I could bottle whatever it is that leads to recency bias, take some from the Biggie and 2Pac argument a few decades ago, and inject it into this bracket, maybe they would have a chance — and they technically do as it is going to a vote — but Jordan-LeBron is cocaine-mixed-with-meth for NBA Twitter, and as soon as you add even a pinch, a frenzy kicks off.
Hey Shannon Sharpe, the Memphis Grizzlies are the NBA's Kings of the Ring
My question to you, the voters, is: Will you ever be sick of debating LeBron vs. Jordan? It doesn't seem like it even though as soon as a back-and-forth starts, both sides emit a collective heavy sigh. One that says, "Here we go again" as if you just sat down to the start work week.
While I certainly know how polarizing Notorious B.I.G. vs. 2Pac was/is, it's been a minute since the last time someone in my group texts reopened that wound and squeezed lime juice in it. Are there even Biggie-2Pac memes? Do we even have the means for a contemporary debate about a '90s rap beef?
I have no clue, but what I do know is I've never seen two friends almost come to blows over LeBron and Mike like that time a couple of buddies started a wrestling match over Big and Pac while shouting lyrics from "Hit 'Em Up" and "Who Shot Ya?" at each other. That was a different era and time though, and my guess is the physicality would persist if the arguments were still resolved on the floors of studio apartments instead of online.
Part of me wishes we could go back to concluding debates about sports and pop culture via scuffles and not Twitter polls. I'm not pining for physical violence; more so just a way definitive way to solve our differences. Twitter polls are a lot less finite than tapping and/or choking out.
Thanks to everyone who's weighed in and enjoyed March Madness with us. All polls can be found on Twitter, so make sure to follow @Deadspin and, as always, vote! To see the full field and the results from previous rounds, check them out here — 64, 32, Sweet 16, Elite 8, and Final Four.
First Take Region No. 1: LeBron James vs. Michael Jordan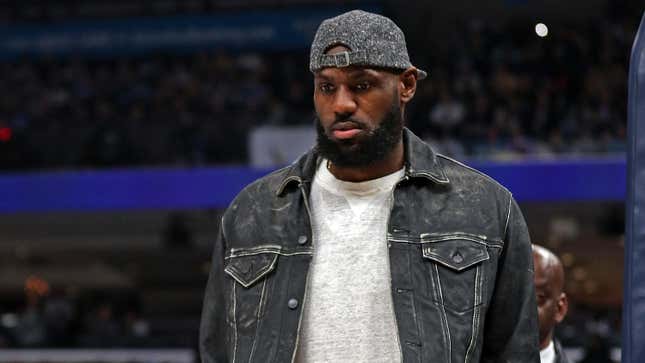 For some the choice is obvious, for others it's the type of sports debate that makes you feel like your T.V. is slapping you in the head at 10 a.m. Whether you hate or love this classic, it will make you feel something.
Michael Jordan is the face of the modern NBA. He took the interest that Magic Johnson and Larry Bird injected into the league in the early 80s and used it to build the first athlete economic empire. The NBA was selling its individual stars to market the games so Jordan's agent — David Faulk — took it one step further with his client. He wanted Nike to market Jordan like a tennis star. Like a singular athlete.
LeBron James had seen the success of this his whole life and set a plan into action early. He signed a $90 million deal with Nike before he signed with the Cleveland Cavaliers. Since then, James has started a fast-food pizza restaurant and also owns a production company that remade both Space Jam and the early 1990s classic House Party.
These two are true A-list celebrities. Not just sports famous, but pop culture icons like Michael Jackson, Eddie Murphy, Jack Nicholson, etc. Also one has the highest points per game average in NBA history and the other holds the record for total points scored.
- Stephen Knox
McLaughlin Group Region No. 1: Biggie vs. 2Pac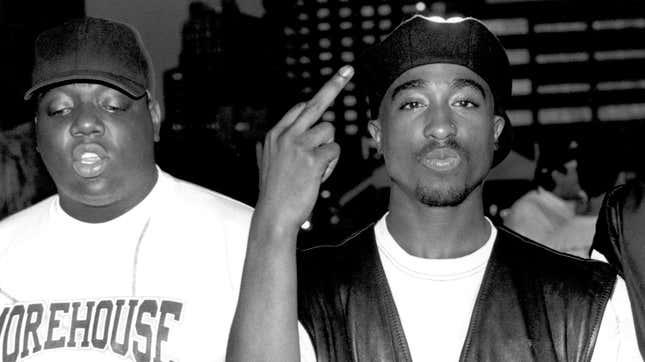 Yes, Tupac Shakur was more famous. Biggie was great playing himself on Martin, but Tupac was an actor capable of owning movies. He was bigger than simply a musician. Tupac was a star.
His personality was a force both for good and bad. He could make some truly profound statements about the state of the world, but he also went to jail for sexual assault and reveled in an out-of-control persona.
Biggie was about the music, and few have ever spit better bars into a microphone. We only got two solo Notorious B.I.G. albums. His debut — Ready to Die — was of the same quality as The Chronic and Illmatic. The next one — Life After Death — was a strong project but fell just a bit short. As a musician sometimes it's hard to get back to the hunger and raw storytelling of a debut album. Unfortunately, we never got to see him try again.
Two young people, gone too soon, who left indelible marks on American culture.
- Stephen Knox