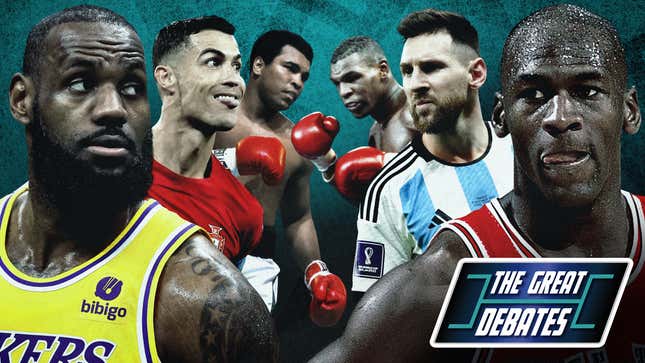 Welcome to the Great Debates bracket, where we're trying to find out what is life's greatest argument. The queries below have stumped philosophers, presidents, priests, and peasants alike. They've inspired books, memes, Twitter threads, and even entire fields of study.
What do Aristotle and @PhillyFan4Lyfe74992 have in common? They love the sport of argument, and we're offering up the biggest game: The meaning of life, LeBron vs. Jordan, cats vs. dogs, iPhone vs. Android. If you've screamed at someone on social media about it, chances are it's vying for the title. (Unless it's women's rights, gun rights, or civil rights. Those shouldn't be debates, but we digress.)
So go forth and vote for your favorite — or against the one you never want to discuss again — your choice! The polls will be staggered all throughout March Madness and you can find all of them on Twitter, the Cadillac of debate forums. Follow us @Deadspin to vote.