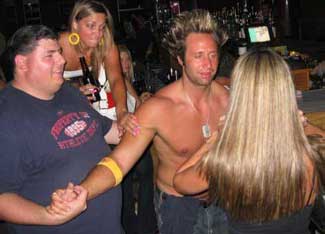 • Welcome back, Harold.
• We've officially come around on "The Sopranos" finale.
• Lookin' sharp, Gators.
• Call us, Andre. We can help.
• Sorry: The Snorg Girl doesn't like you.
• John Daly is the only interesting golfer.
• Even cops like to make fun of Tony La Russa.
• Oh, how we've missed Sinbad.
• Love that Elijah Dukes.
• Man, Jeff Reed is really the best.
• Congratulations, Spurs, we guess.
• Blog in a box!
• No blogging in the press box!
That'll wrap it up for us; The Mighty MJD is back in full effect this weekend. As for us ... well, it's Nancy Drew, over and over and over, all weekend, obviously. See you Monday.