Rex and Rob Ryan turn 50 today. That's 100 years of Oklahoma-born, Ontario-raised, Illinois-and-Oklahoma-schooled, good-ole-boy-defensive-mastermindedness. We take this moment to look back fondly on all the joy the two—seen here in their college days—have given us.
For me, there will be no better description of Rex's oeuvre than this passage, from Nicholas Dawidoff in The New York Times Magazine:
Tannenbaum says there were two events last year that made him sure of what a genuine article he had in Ryan. The first was one of those early occasions in a relationship that, when looked back upon, seems of defining, if slightly inexplicable, importance. These being men, it involved a road trip and many hamburgers. Ryan, Tannenbaum, Schottenheimer and the quarterbacks coach, Matt Cavanaugh, were going to Kansas to scout a potential draft choice, Kansas State quarterback Josh Freeman. Ryan dutifully appeared wearing a dress shirt and crisp trousers, as he had for the many business dinners and events he attended since being hired. This time, Tannenbaum told his new coach: "Rex, he's a draftable player. He has to impress us." Ryan's eyes grew big. He disappeared back into his office and re-emerged wearing a flowing garment which he referred to as "the dress sweats." The four men jetted west, landed and got their rental car, a pick-up truck. Ryan drove, Tannenbaum rode shotgun, Schottenheimer and Cavanaugh sat knees to chest in back. Stories of the Plains were told by Ryan. Soon all four were dusty. Nobody minded. They watched Freeman throw and run. They were impressed, though not as much as they would be by Mark Sanchez of the University of Southern California. Then, on the way to the airport, Ryan suggested a visit to a Sonic Drive-In for some refreshments. Most of the items on the menu were ordered, including, for Ryan, a cup of limeade the size of Topeka. The truck shook. Nobody can say why. Possibly it was many men eating. The result was that Ryan's cup began to spill. Freshets of limeade poured everywhere. "Oh, no!" Ryan cried. "The dress sweats!" It has become an iconic line, and every time those words occur to Tannenbaum, he feels happiness.
And as far as Rob goes, this video shall never be topped:

Here's more, from our annals, about the pair:

G/O Media may get a commission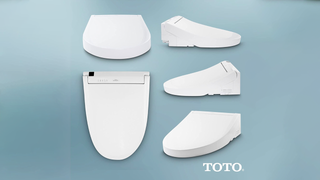 44% off
Toto Washlet Electronic Bidet Toilet Seat
There's a celebrity in the foot-fetish world who posts videos with titles like "Hot Mature Sexy Feet." The videos feature a woman who looks like Jets coach Rex Ryan's wife, Michelle - More »
---
As you know, Rex Ryan addressed the media earlier today. They asked him some stuff. This is more or less how it went. [Sports Grid] More »
---
Every week, Alan Siegel and Deadspin's crack video team will break down Rex Ryan's frequent use of profanity on HBO's Hard Knocks. Episode 1: "Fuck" narrowly edges "shit."
If HBO's Hard Knocks teaches us anything, it's that New York Jets coach Rex Ryan loves to work blue. More »
---
"Converse sneaks. Check. New tattoo. Check. Rex is ready for camp," Jets EVP Matt Higgins tweeted this morning.
I'm well aware that Ryan's interests are not for everyone, but I'm still not quite ready to believe that he agreed to putting this awful design on his lower leg. More »
---
Wheaties has advertised itself as the "Breakfast of Champions" for over 80 years. Surely someone must be interested in "Dinner of Guaranteed Champions." Because that slogan could apply to Steak 'n Shake, Hooters, or probably anywhere in Indianapolis.
New York Jets head coach Rex Ryan, master... More »
---
You may have read about the possible foot-fetish-filmin' proclivities of New York Jets head coach Rex Ryan. He likes feet, Deadspin told you last December, and then Wes Welker joked about it while Ryan wouldn't talk about it.
Now, via Clarence Hill of the Fort Worth Star-Telegram, we have some... More »
---
It was just two weeks ago that Rob Ryan confirmed his "freaky" twin brother Rex's fetish for Rex's wife's feet. In doing so, Rob reminded us that "everybody has whatever screwed up thing going on." And yesterday, Rob gave us a bit of an indication of his own. More »
---
You can hear it at about the 15-second mark.
Fan: Hey, Rex, Belichick is better than you!
Rex: Shut the fuck up.
There's no way Belichick and Ryan's fines will offset, is there?
UPDATE: Naturally, the NFL is investigating.
YouTube, via Busted Coverage. More »
---
We've long known way more about Rex Ryan's dietary exploits-and his sex life-than we ever wanted to. We recently learned that he had lost over 100 pounds, which evidently means he can flaunt his frame in T-shirts with naughty puns on them. More »
---
Remember when we all learned together that Rex Ryan isn't as fat as he used to be? Back then, we only had a disconcerting photograph of a relatively skeletal Rex at which to marvel, accompanied by precious few details on how the coach lost the weight, and how many tacos he typically ate when he... More »
---
Jets head coach Rex Ryan and Cowboys defensive coordinator Rob Ryan are twins. Rex Ryan got lap-band surgery two years back, so Rob got it earlier this year. More »
---
And we wouldn't feel right doing this without GIFs:
God bless America, and god bless the Ryan brothers. Here's to 100 more years of greatness.