Racing fans may be wondering what's up with their favorite tweaked out NASCAR family, but sadly the trial of the century between Jeremy Mayfield and his drug-testing bosses has been called off due to crazy things like "the law."
To recap: Mayfield was accused of failing a drug test last year. (Meth, since you asked.) Then he was accused of failing another. The he accused NASCAR making it all up to ruin him. Then he accused his stepmother of conspiring with NASCAR to help ruin him. And also, maybe, murdering his father. Then she showed up at his house, drunk out of her mind, and tried to break in. Then the IRS came after him. And his own lawyers. It was a busy year.
Oh, right. The lawsuit. So Mayfield sued NASCAR for defamation, claiming the test was rigged and it was simply prescription drugs that caused all the fuss. Well, today a judge decided that Mayfield has failed to show any ... what's it called? Oh, right ... "proof" that NASCAR did anything wrong, and it wouldn't matter if he did since all the previous agreements he signed with NASCAR don't allow him to sue his employer. Case dismissed.
No word on the status of Mayfield's wrongful death suit against his stepmother, who he claims caused his father's suicide, but with tax bills and lawyer bills and no chance of ever being a professional driver again, I'd say a bankruptcy hearing in his future. And then many, many years of "Hey, aren't you that guy.....?"
G/O Media may get a commission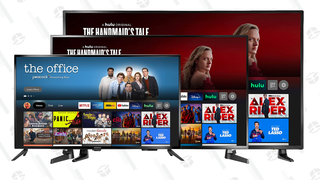 Up to 44% off
Prime Early Access - Insignia Fire TVs
Mayfield's lawsuit against NASCAR dismissed [Charlotte Observer]
U.S. District Judge dismisses Jeremy Mayfield's suit vs. NASCAR [ESPN]