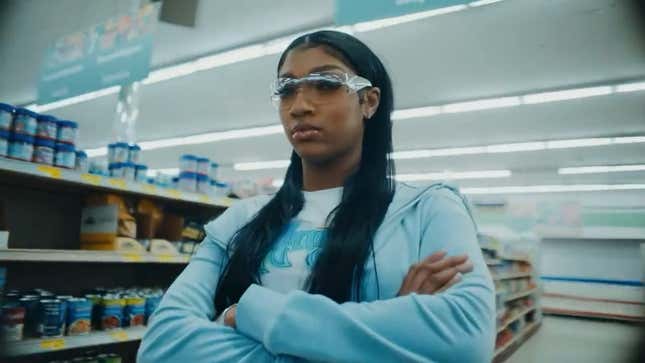 LSU women's basketball phenomenon Angel Reese's glow-up continued this week, as she made a cameo appearance in Latto & Cardi B's "Put It On Da Floor Again" music video. Even for a split-second appearance in a grocery store for a rap video, it's a big deal. It's a mainstream level of acceptance where her stardom can break through and cater to the masses. Reese appears while Cardi raps the phrase "I've been ballin' so damn hard, could've went to LSU" with her arms folded.
Having plenty of friends and family rooting for Maryland, I've been seeing Reese's rise to stardom before her transfer to LSU. She was fantastic in her sophomore season in College Park, but clearly made the right decision for her to enter the portal. As great as Brenda Frese is, there's no shot Reese would've matched this level of publicity by staying in the Big Ten. With the NCAA women's tournament being much more compelling this season compared to its male counterpart, Reese appears to have leveraged that spotlight as well as anyone. She's far from the first athlete to make a cameo in a music video for a popular musical act. Michael Jordan appeared in Michael Jackson's "Jam" and several popular athletes were in MC Hammer's "2 Legit 2 Quit" including Jerry Rice and Wayne Gretzky.
Reese made headlines for her "taunt" of Iowa's Caitlin Clark during the NCAA title game, but you know who didn't have a problem with the display of confidence? Clark, and Reese's celebratory nature will continue, especially since the Tigers have reloaded with the addition of Louisville transfer Hailey Van Lith this offseason. Reese isn't going anywhere and that's a good thing for women's basketball.