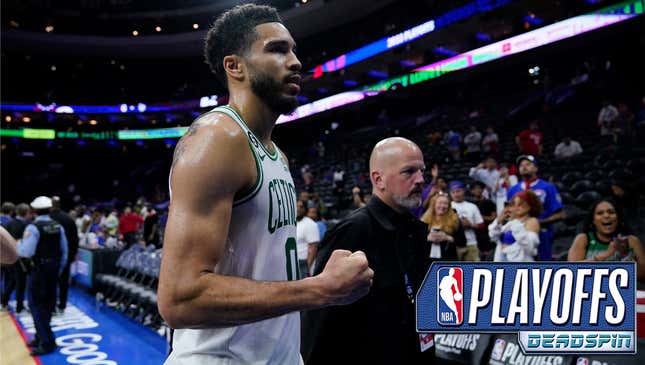 No one eats their young quite like Boston. Only Tom Brady and David Ortiz seemed to have gotten out of there alive. No matter what you do, if The Hub feels like you didn't deliver when it counts they'll not only send you out of town but they'll make sure the road is paved with manure as well. Ask any Bruin who has been traded in the past 20 years about what they say when you go.
Lakers fans fall too deep into the ButtCrack
That's what Jayson Tatum was staring down after three quarters in Game 6 against Philadelphia. After his pretty laborious Game 5, a loss at home, the knives may not have been out for him yet but their grips were certainly being tickled. WEEI was probably shaking at the foundations And going 5-for-21 from the field in Game 6 under normal circumstances wouldn't save him, but the first lesson of comedy is timing. Make those five field goals count, and you can shroud the rest, as long as the Sixers are around to provide the punchline. That train is never late.
Tatum wakes up in the fourth quarter
All four of Tatum's threes came in the fourth, as he spent the first 36 minutes making enough clanking sounds that one might have thought it was an avant-garde art installation. But his late arrival/wake-up took a game where both teams were too incompetent and hesitant to ever lead each other by more than two to the Celtics pulling away and getting a Game 7 at home.
Of course, it always helps that yet another Doc Rivers-coached team played the entire fourth quarter with both hands around its neck, giving Tatum the stage. Tatum outscored the Sixers by himself in the final frame, as Philly spent the last quarter watching James Harden either incapable of driving to the lane because he moves like Rodney Dangerfield in his current state or simply unwilling to try. Which led to a lot of step-back threes that waved at the basket as they went by. When that wasn't the mode of offense, Joel Embiid didn't so much shoot a selection of floaters and jumpers from the elbow or nail as he did dry heave them up. And of course, Rivers didn't have any answers on how to get around this fact, but he'll assuredly have a lot of long-winded answers in the postgame presser to keep those who would normally be calling for his head mollified for a little while more. Never accuse Doc of now knowing how to dodge the raindrops. While Tatum may have saved himself, Embiid and Harden are now staring at a few months of people inquisitive about their combined 13-for-35.
Tatum could at least call upon the well of experience of having done it before, even just last year. All Embiid and Harden had to call upon was a history of hairballs at the deciding moment, and the entire Sixers team played like it. Even if it was just ahead of the wire, all that matters is what it says when the horn blows. Once again, it says what it's always said for the Cs and the Sixers.
Banner day for Philly sports
The Sixers roommates at the Wells Fargo Center didn't make the day any better for Philly sports, as the Flyers announced they had hired their TV analyst Keith Jones as their president of hockey ops. I have no idea what kind of plan Jones presented, and maybe he could have been a surprise and will be for all Flyers fans, but based on his work on TV it's hard to picture his presentation being much more than playing "Pyromania" really loudly.
And this is the problem for the Flyers. No team is more in love with their own anachronistic and failing character than the Orange and Black. And it hasn't meant anything in decades, and most of their fans would rather they leave all the Broadstreet Bullies and Legion of Doom bullshit in the past and just draft good players for what hockey is today. If there's any organization that could use a fresh pair of eyes to walk in and loudly declare, "What is this shit?!" it's the Flyers.
Daniel Briere as GM could be fine; he at least went about it the right way and worked his way through and up to the GM post through various other front office assignments. Maybe he sees the forest for the trees. But both Briere and Jones smack of the Flyers trying to toss red meat to a fanbase that they think want someone that "gets the team and city" when all they want is a first Cup in going on 50 years. Jones and Briere are certainly names Flyers fans know, but that shouldn't be the first, second, and third qualifications for the job.
It's the NHL in 2023, and while the actual process is still tricky, the overarching ethos isn't. Draft players at every position that can skate and are comfortable with the puck. If Jones and Briere are going to walk in and belch up something about getting back to "Flyers Hockey," then Flyers hockey will remain what it's been for the last decade. Irrelevant.
The Devils took the first step
This postseason has seen more discussion about what's a success and what's a failure than normal, thanks to Giannis. But the rules are different for every team, depending on where they are in their development or the length of contention. The answers, as Giannis rightly pointed out, aren't simply "championship or not."
For the New Jersey Devils, having their season end last night to the more experienced Hurricanes is not a failure. It's nearly impossible in hockey to leap up into the playoffs for the first time and then make serious noise at first asking. The Devils are built to be here for a long while, and even got a taste of what it's like to put a team to the sword when they sentenced the Rangers to a summer vacation. This is the first step, one that every eventual consistent contender and winner takes in the NHL. Sidney Crosby was booted out of the first round on his first crack at the postseason. The Hawks got to the conference final where they were outclassed by Detroit when they first were on the scene. The Lightning were swept by the Canadiens in the first round in 2014. This is how it goes.
This was the honeymoon, and they'll start next October with an Atlas-load of expectations. But they'll be perhaps the most interesting watch in the league when that time comes.
---
Follow Sam on Twitter @Felsgate.