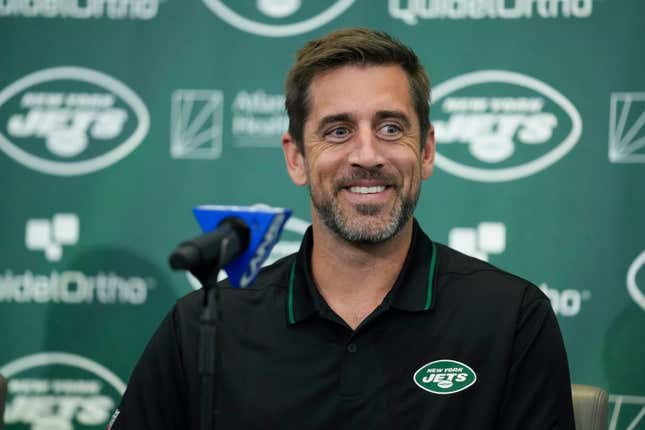 Football season is near, which means HBO is gearing up to give us another season of all-access on Hard Knocks that won't feature anything worth seeing.
The New York Jets are up — again — as the combination of Aaron Rodgers, Sauce Gardner, Garrett Wilson, and Zach Wilson was too much for Home Box Office to pass on. "They forced it down our throats and we have to deal with it," Rodgers recently told KPIX. There have already been reports that the Jets are going to limit HBO's access — so this season is guaranteed to suck, just like many of the seasons before it.

According to ProFootballTalk, there have been 18 seasons of the preseason version of the show that have featured 14 franchises. They include the Jets (twice), Ravens, Cowboys (three times), Chiefs, Bengals (twice), Dolphins, Falcons, Texans, Rams (twice), Buccaneers, Browns, Raiders, Chargers, and Lions. The Colts and Cardinals have appeared during the new in-season version of the show.

The report goes on to detail that back in 2013, the NFL came up with three ways in which a team can skip out on production, which include having a new head coach, reaching the postseason in either of their last two seasons, and being on the show in the last decade.

That has led to 16 franchises being able to dodge HBO's cameras, 10 of them are in the NFC, and six are from the AFC. Let's check out the list: