No close examination of the bullcrap NFL would be complete without a look at NFL fans, possibly the dipshittiest of all dipshit sports fans when taken as a whole.
Jokic? Embiid? The NBA MVP is obvious... right? | Keep it a Buck(et)
Behaviors cover the gamut, from Bills fans being mostly benign drunken idiots who hate furniture, to Eagles fans being gross overly-intense weirdos, to Skins fans just being desperate and shameless, to Browns fans drinking away the pain (and also muscular coordination), to fans of all stripes being violent, hyper-macho dickheads who can't convince themselves to behave like adults. It's normal bad sports fan behavior cranked up to 12.
Beyond that, though, there's NFL fans in general being just as self-serious and creepily-invested and pious as St. Louis Cardinals fans, with a telling tendency to aim their sanctimony at demonstrative black players. Again, this happens in every sport, and it's always disgusting and obnoxious, but the NFL is America's great secular religion—these fan uproars both articulate and reinforce America's fucked up values in a way bad NHL fan behavior (for example) can't even touch.
Hey, you're here because you don't want to watch. Here's some other stuff going on in the TV world.
G/O Media may get a commission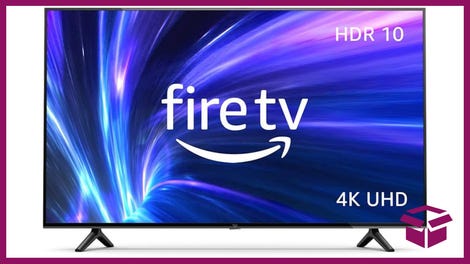 42% Off
Amazon Fire TV 50" 4K Smart TV
Other Sports
12:15 p.m. — beIN Sports Español — La Liga Soccer: Granada vs. Athletic Bilbao
Athletic are a respectable side in La Liga's upper half, and they should pound the bejeezus out of Granada.
1 p.m. — ESPN 2 — Barclays ATP World Tour Finals Tennis: Roger Federer vs. Novak Djokovic
I follow tennis loosely enough to always be a little bit surprised, these days, to see Federer in the final of a tournament. Ol' Roger has a 22-21 career record against Djokovic, and any right-thinking person on Earth will be rooting for him today.
1 p.m. — ESPN — NCAA Men's Basketball: Duke (5) vs Georgetown
It's been a rough start for the Hoyas this season. Dropped a stunner to bullcrap Radford, then a tough loss at Maryland before toppling the post-Frank Kaminsky Badgers.
2:30 p.m. — beIN Sports Español — La Liga Soccer: Real Betis va. Atlético Madrid
If Atlético grab full points, which they should, they'll jump ahead of Real Madrid on the table and will be in the driver's seat for second place, behind Barcelona.
2:40 p.m. — beIN Sports — Serie A Soccer: Inter Milan vs. Frosinone
Probably not a match that's gonna set the world on fire. Inter don't score a ton of goals—they're 16 points clear of Frosinone but have just one more total goal scored—but they might benefit from their opponent's crappy defense today. Only three teams in Serie A have conceded more goals than Frosinone.
3:30 p.m. — NBA League Pass — NBA Basketball: Raptors @ Clippers
Do not be surprised if the Raptors take down the Clippers in Los Angeles today. The Raptors are good. They're 4-3 against the Western Conference, and they've got a better defensive rating and a better net rating than the Clippers, who've lost two in a row. In general, the Eastern Conference is not quite the shit-heap it's been in recent years, sporting a 36-32 record against the West so far this season. And this is a matchup of contrasting styles: the Clippers play at the 6th fastest pace in the NBA, while the Raptors play at the 8th slowest. If Toronto can make the Clippers grind out possessions, they will win.
5 p.m. — ESPN — MLS Soccer, Eastern Conference Finals First Leg: Columbus Crew vs. New York Red Bulls
The Red Bulls coolly dispatched D.C. United in their semifinals matchup. Columbus entered the second leg of their semifinals matchup against Montreal a goal behind in the aggregate, but hung three on the Impact to advance.
7 p.m. — NBA League Pass — NBA Basketball: Mavericks @ Thunder
The Mavs are good! They're good. They're not especially deep, but Rick Carlisle is one of the very best coaches out there and they've got a bunch of veterans who just know how to play. And, man, the Thunder are scuttling a little bit. Tellingly, their net rating is 6th best in the NBA—with their 7-6 record, that tells you their losses are a lot closer than their wins. I know I've said this a couple of times already, but they still haven't replaced their garbage "my turn, your turn" late-game offense—it's no surprise they're dropping close games.
7:30 p.m. — FOX Sports 1 — MLS Soccer, Western Conference Finals First Leg: Portland Timbers vs. FC Dallas
The Timbers blanked the higher-seeded Whitecaps in the semifinals, while Dallas needed penalty kicks at the end of a completely bonkers second leg to get past the Sounders.
8 p.m. — ESPN — NBA Basketball: Warriors @ Nuggets
At this point, it's worth watching the Warriors just so you can say you were watching when [blank] happened. When Curry went off for 15 three pointers, or when they beat a Western Conference playoff contender by 60 points, or when the team shot 70 percent from the floor. Right now, the least expected thing to happen in a Warriors game is a Warriors loss, and that's certainly not likely to happen against the Nuggets. But the Nuggets have some players to watch, and, who knows, maybe the thin Denver air makes Golden State's players human.
TV Reruns
12:30 p.m. — TV Land — Golden Girls
The old standby.
1 p.m. — WeTV — Roseanne
Episodes to get you through the early games.
4 p.m. — USA — Law & Order: Special Victims Unit
A slightly delayed Sunday marathon, here to carry you through the afternoon and evening games (if needed).
4 p.m. — FXX — The Simpsons
Eight consecutive terrible episodes. Go ahead. Punish yourself. Tarnish your recollection of a time when The Simpsons wasn't a horrible piece of shit aimed squarely at idiots living in a post-South Park, post-Family Guy world.
7 p.m. — AMC — The Walking Dead
You know the drill.
Movies
Noon — ion Television — Drive
I'm not sure how this will hold up on TV. It's got some extremely violent stuff in the second half, generally not the kind of thing that survives the transfer. Still, it's a terrific movie, if you haven't already seen it. Great looking, some cool action, and a great villain performance from Albert Brooks, of all people.
1 p.m. — TNT — War of the Worlds
This is a good movie. It shares in common with Minority Report, though, that it's aggressively, oppressively unpleasant and ugly to look at. It's like Steven Spielberg was experimenting with ugliness as a new aesthetic.
1 p.m. — Logo — Little Shop of Horrors
A fun thing to do is say "feed me, Seymour!" in the flytrap voice when your spouse is cooking. People love that.
2 p.m. — ion Television — Point Break
Hell yeah.
2 p.m. — USA — Friday
See, this would be amazing counterprogramming, except it's gonna be cut to ribbons. Dammit.
4 p.m. — AMC — Independence Day
Buh. Break in case of emergency.
5 p.m. — BBC America — The Terminator
Getting a surprising amount of burn on Sundays this season.
5:30 p.m. — Pop — The American President
Still racking up the appearances as a counterprogramming staple.
7 p.m. — Reelz — Any Given Sunday
Buh. Interestingly, this ridiculous movie dug around in the NFL's concussion problem years before it blew up into a mainstream concern. Also, it has a guy's eyeball popping out on the field, because Oliver Stone is a clown.
7 p.m. — Syfy — Zombieland
People will get genuinely heat up if you say negative things about this movie. But I will not be silenced! It's a totally "meh" zombie movie and an even more "meh" teenage romance comedy, with a short-but-great cameo in there to keep it from being completely forgettable.
8 p.m. — TBS — The Wizard of Oz
This is great counterprogramming. It works perfectly on TV.
8 p.m. — TCM — A Raisin in the Sun
Sidney Poitier is the greatest.
8 p.m. — abc Family — Toy Story
This is the only one of the Toy Story movies that doesn't just get more and more stressful and grim as it goes along.
8 p.m. — VH-1 Classic — Goonies
This is the most fun damn movie. Start to finish.
It's cold and wet and snowy in most of the U.S. today. The grey garbage days of late autumn are upon us. Hang in there!
Photo via AP