A selection of stories from the week we hit the bad kind of Derby Day trifecta.
A Day At The Rug Races: A Filthy, Hooker-Filled Excerpt That Was Cut From The Upcoming ESPN Book | Next week, excerpts from the long-awaited ESPN oral history Those Guys Have All The Fun will start trickling out, including one next week when the June issue of GQ drops. There are a lot of very nervous people in Bristol right now, and if the following passage is any indication of the book's contents, they have good reason. It's a brief snippet about some ESPN executives', erm, unique extracurricular activities, and it appeared in an early version of Those Guys but was later excised. (A.J. Daulerio)
G/O Media may get a commission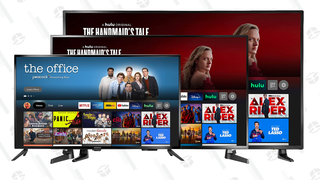 Up to 44% off
Prime Early Access - Insignia Fire TVs
The Bizarre Cult Of Pro-Owner NFL Fanboys | So here we have one side that has shut down the operations of football TWICE, and another side who A.) didn't instigate the lockout and B.) sued to STOP the lockout and get football played again. This is now the longest work stoppage in NFL history, and it is the result of a labor battle initiated by the owners. Those are facts. It should seem obvious whose cause you, Mr. NFL Fan, ought to get behind. So it baffles and angers me that there appears to be actual people out there who are squarely in the owners' corner when it comes to this labor war. (Drew Magary)
TV Is A Helluva Drug: On Jay Mariotti And The Sportspersona Machine |The tale of Jay Mariotti, as sad and vile as it may be on the surface, isn't entirely unique. During his interview with Fox's Jason Whitlock months ago, Mariotti played off the first set of allegations as an isolated moment of rage (he was trying to "help the person [his girlfriend]," he said), and he may not have been lying. But it also represented the last step in a transformation from an acerbic, confrontational sportswriter into a semi-celebrity totally divorced from normal human behavior and whose life was quickly becoming an ongoing exercise in brand management. (A.J. Daulerio)
• RELATED: Jay Mariotti Charged With Felony Stalking And Assaulting His Ex-Girlfriend Again, Faces Five Years In Prison
A Panicky Column About The Scandalous Thing Serena Williams Just Did | Serena Williams did a scandalous thing recently. That she did something scandalous is no surprise; that she did something this scandalous is truly shocking. Are you shocked yet? Take a look at the scandalous photo at the top of the page, and then decide for yourself if this is the most scandalous thing that the scandal-ridden celebrity tennis player has ever done. (Emma Carmichael)
Why Hockey Has Gone Totally Gay For The Latest Homophobia Debate | Hockey, for a sport that's nominally proactive in areas ranging from replay to concussions, has never been especially progressive. No one expects the openly gay pro athlete, the inevitable big story for the next decade, to come from the NHL. While other leagues have John Amaechi and Billy Bean and Esera Tuaolo, the closest thing the NHL's had to a gay figure didn't skate a shift after high school. (Barry Petchesky)
Patrick Kane's Offseason Begins With A Black Eye, Taking A Girl Home From A Club | Oh Kaner. We take a lot of shit for giving you shit, but you keep giving us shit to give you shit for. Kane went home to Buffalo after the Blackhawks were eliminated, but returned to Chicago last week because he missed "the life." That would entail getting a black eye under mysterious circumstances, attending a Bulls game, and bringing home a woman who got a little camera-happy. (Barry Petchesky)
Everything You Wanted To Know About Porn, Weed, And Toilets In Afghanistan, Courtesy A Platoon Leader | That photo of an anonymous U.S. soldier standing in front of a whole shitload of weed was taken by a platoon leader in Afghanistan with the Gawker handle Lono. He emailed me recently to clarify a number of things about fighting overseas, namely the quality of local porn, the abundance of local weed, and why American soldiers and Afghan soldiers aren't allowed to use the same toilets. Take it away, sir. (Drew Magary)
• ALSO: Did Osama Bin Laden Have Porn?
Albert Pujols Hugs Jim Hendry: A Photoplay In 10 Parts | Free agent-to-be Albert Pujols and Cubs GM Jim Hendry hugged yesterday and chatted amiably behind a batting cage. This is now, officially, a Thing. How did it become a Thing? Let's watch. (Tommy Craggs)
Hacks: In our search for the world's worst swing, we brought you yet more golfing atrocities on video. Watch here, here, here, and here. Please keep them coming.
The Lakers Had A Group Meltdown In Honor Of Phil Jackson's Final Game | Let's avoid speculating about why the Lakers are avoiding Kobe Bryant on the court, and why Pau Gasol broke it off with his girlfriend, and how those two things may or may not be related and may or may not have lead to this 4-0 sweep, and just point out that Los Angeles played like a team — despite earlier claims — that knew it was going to get swept, and that couldn't do anything about it. (Emma Carmichael)
Tips
Have something to share? Check out the tips forum or email us at tips@deadspin.com.
Follow Us
We're on Twitter and Facebook. Won't you stalk us?
Your Deadspinners
Editor-in-Chief: A.J. Daulerio | Senior Editor: Tommy Craggs | Writers: Barry Petchesky, Luke O'Brien | Contributing Editor: Drew Magary | Night/Weekend Editor: Brian Hickey | Video Editor: Emma Carmichael | Contributing Artist: Jim Cooke | Intern: Jack Dickey | Video Intern: Kate Shapiro | Moderators: Comment Ninja Squadron